Insights
Meet the new sports fans in the Twitter stands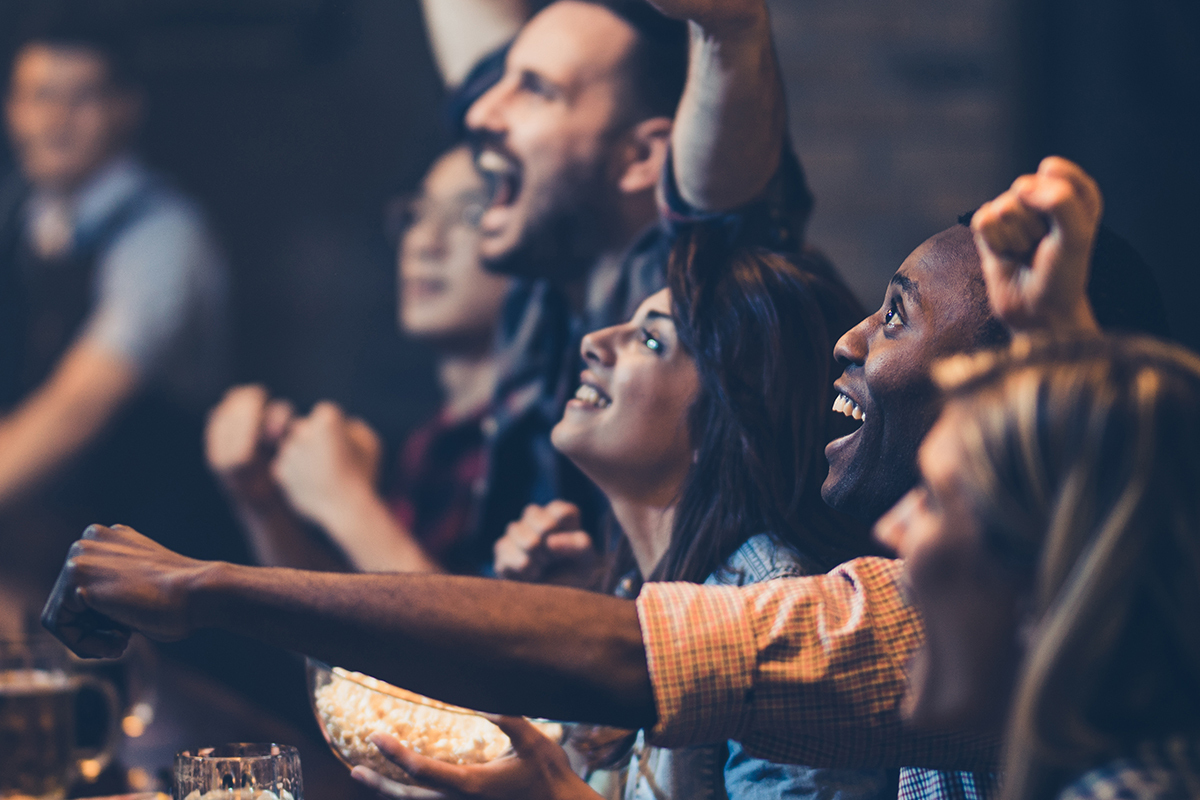 A new kind of sports fandom is emerging. Here's what brands should know.
Sports are back, and while the stadiums may be quiet, Twitter certainly isn't. As old fans return to see their favorite teams and athletes compete, new kinds of sports fans are coming out of the fray to join the conversation. How do we know? Because we're seeing it unfold right here on Twitter. 
We set out to understand how fans' behaviors have changed during lockdown and the role Twitter plays in helping brands build meaningful connections with people. Here's what we found.

More sports, more fans 
With many leagues restarting, people on Twitter are embracing the return of sports in a major way. In fact, 70% of the general population say they would engage with sports that they never would have followed before COVID-19. This number jumps to 83% of people on Twitter, giving brands even more of a reason to connect to the sports conversation where it's happening — on Twitter.1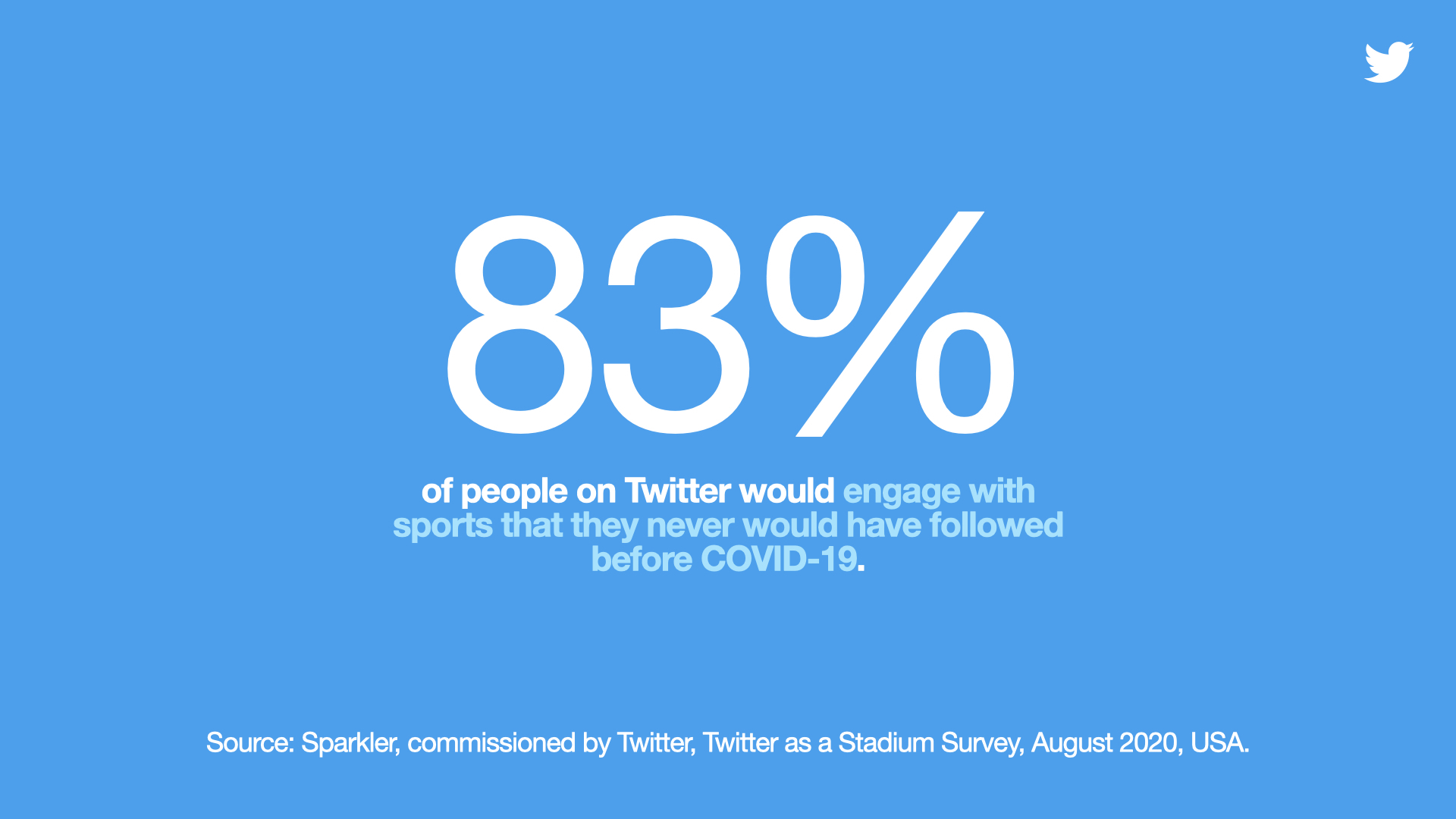 But don't just take our word for it. During the NFL Draft, total minutes spent on Twitter increased 13%, while total minutes spent on other leading social media platforms, on average, decreased by 9%.2
A new, more diverse group of sports fans are coming out of left field. That means brands will need to throw out the old playbook and come up with new ways to connect with people that are hungry for the real-time action happening on Twitter. There's no doubt — sports fans have evolved. If brands want to compete, they'll have to as well. 


No stadium? No problem.

Twitter has always given sports fans a place to go during the game, whether it's tailgating from their kitchen, cheering from their couch, or supporting their favorite athletes from the comforts of their home. Today, that energy has exponentially shifted as fans bring even more energy and attention to their timeline. Nearly three-quarters of people surveyed on Twitter (74%) agree that Twitter helps make up part of what they're missing when they're unable to attend a sports event in person or watch it at a bar with friends or family.3 Not only are fans passionate, but on Twitter they're looking to be entertained and connected while tuning in to the big game.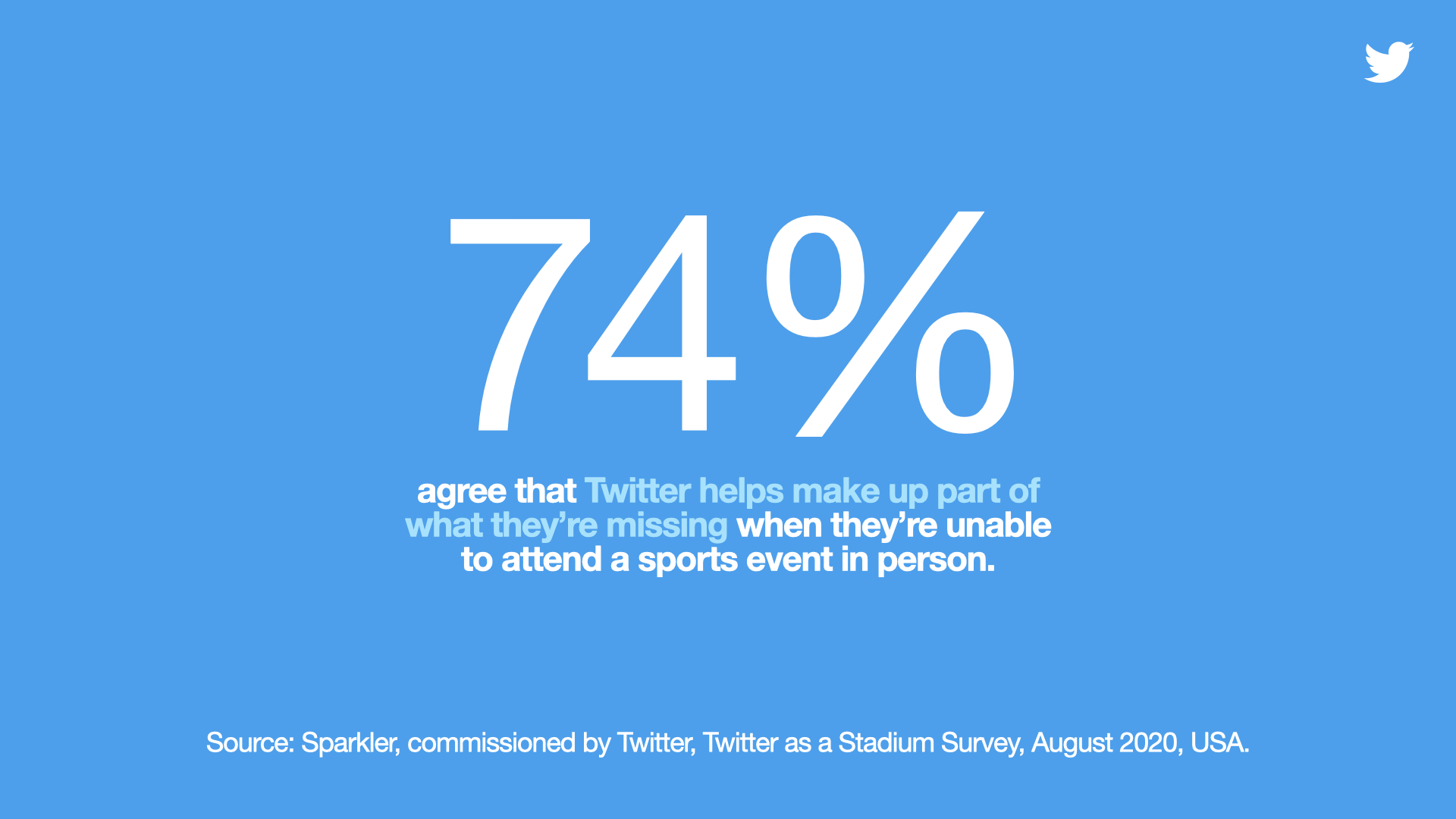 With sports' triumphant return, fans are turning to Twitter more than ever — and leaning on brands to help make connections. More than three-quarters (78%) of people on Twitter agree that brands should try to bring sports fans together while they cannot go to the stadium or watch together as a group in person.4 For brands, this is an opportunity to connect with events that matter to people and build relevance with new sports fans.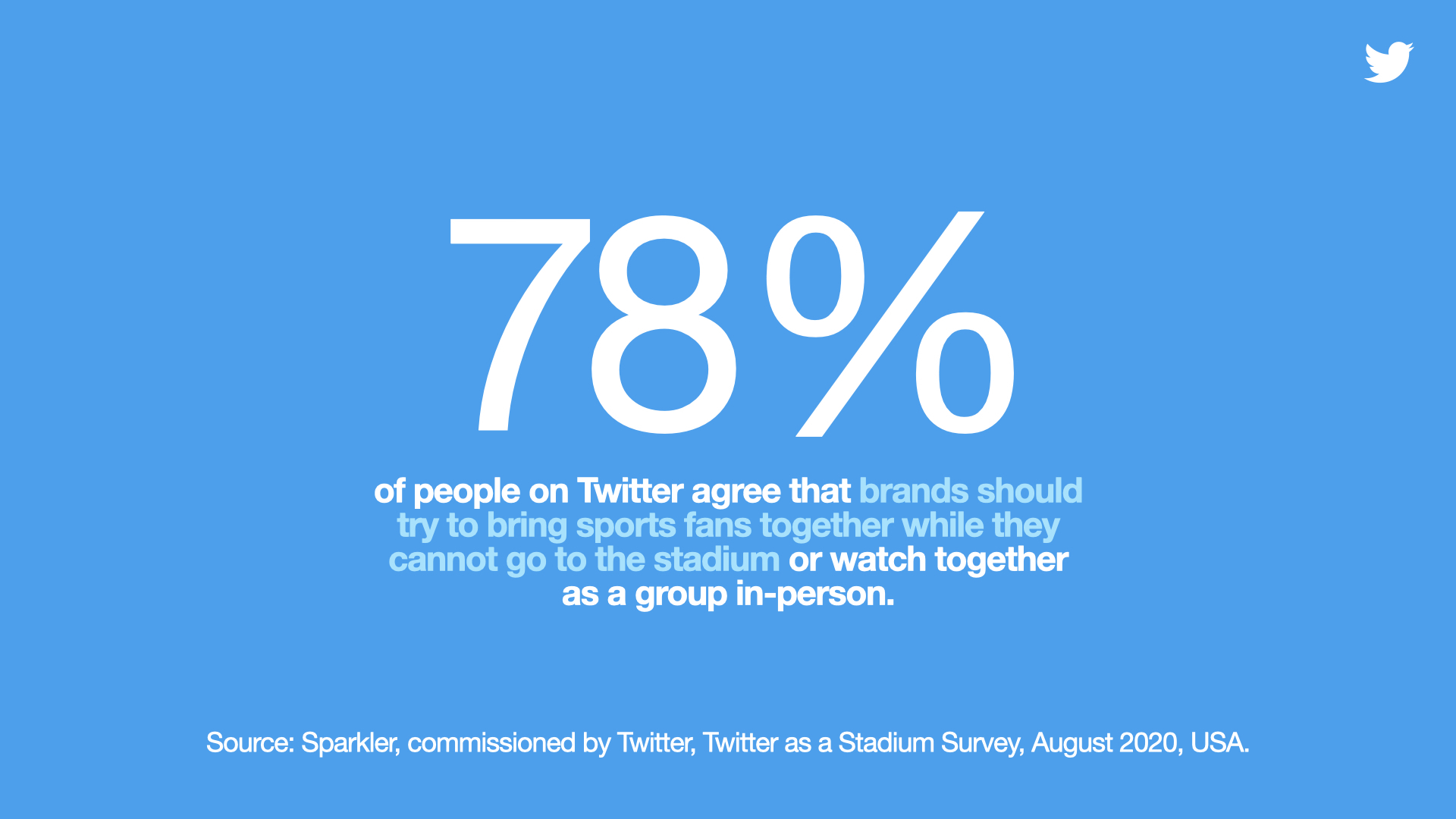 The epic return of sports is a massive cultural moment. On Twitter, fans are welcoming back their favorite teams and athletes in exciting and sometimes surprising ways, and now, they're ready to hear from their favorite brands as well. This is the time to get back in on the action and join the fans where they're at — in the roaring, explosive stands on Twitter.
Hilary Pollack is a research manager on Twitter's Measurement Insights & Analytics team. Follow her on Twitter @hpollack.
Dina Peck is a research analyst on Twitter's Measurement Insights & Analytics team. Follow her on Twitter @dinapeck55.
Sources:
1, 3, 4. Sparkler, commissioned by Twitter, Twitter as a Stadium Survey, August 2020, USA.
2. Custom Daypart Analysis, comScore Media Metrix & Mobile Metrix (event vs. average of 3 weeks prior during same day of week & airing time vs. other social platforms), USA. NFL Draft 4/23/20.