Research
If you're in the conversation, you're in the game.

And while brands have many options for reaching gamers elsewhere, the Gaming on Twitter data actually proves that the right place for brands is here amongst the 91m (and growing!) gamers on Twitter1. Need more proof?
Twitter is the home of the gaming conversation.
If you're under the impression that Gamers on Twitter made up a small, niche audience, think again. 
In 2020 alone, we saw a 75% increase from 2019 in gaming Tweets for a total of 2 billion Tweets, and also witnessed a significant growth last year in unique users totalling at 35M.2
The gaming community on Twitter not only engages in the conversation, but they do so with passion, at a rate of 70 gaming themed tweets per second.3 Which means hundreds of gaming tweets are being tweeted right now. And right now. And...right now.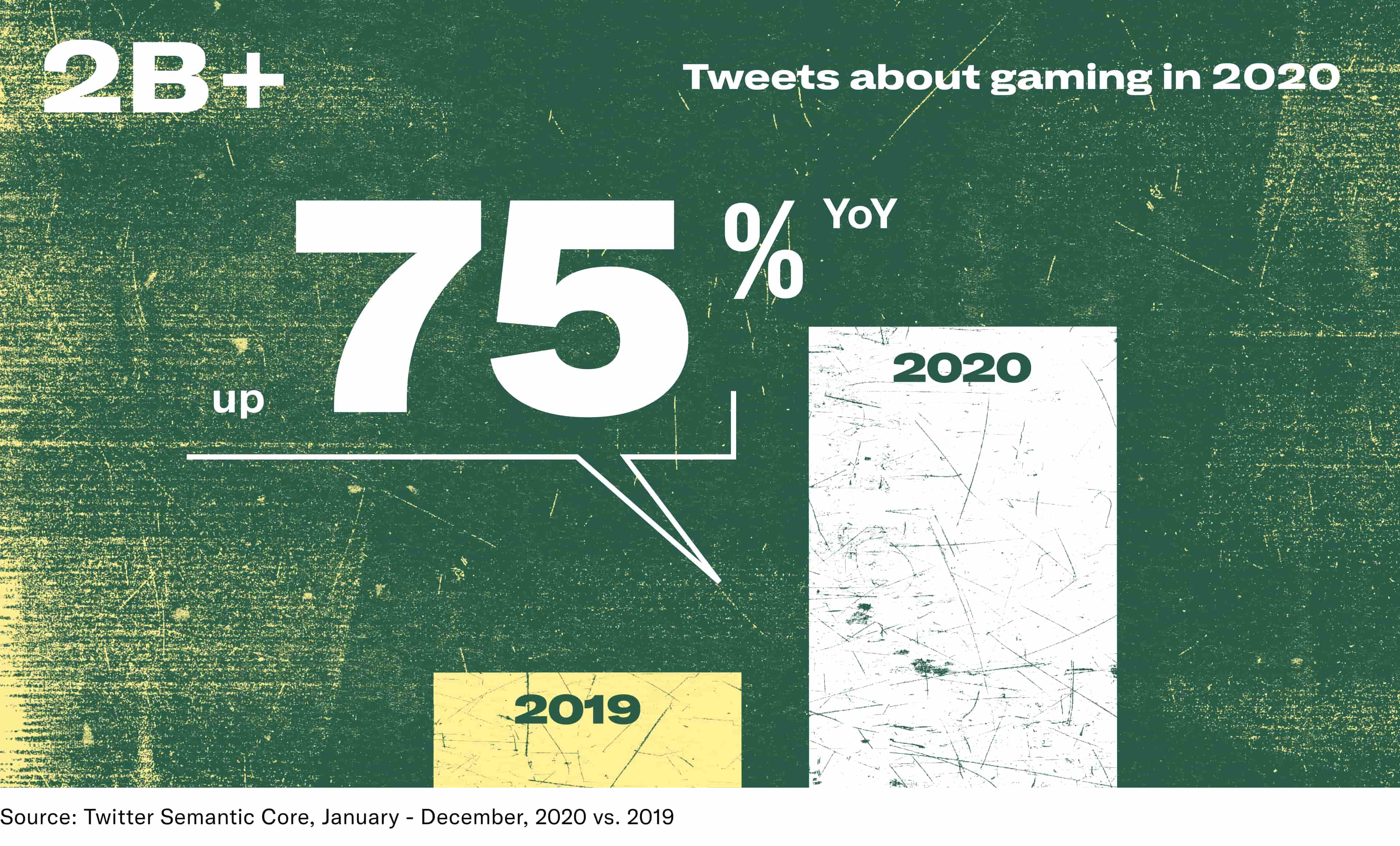 Major streaming platforms aren't the only place brands can reach gamers.
Brands can reach more gamers using Twitter plus a streaming service than on a streaming service alone simply because Twitter is a complementary platform to most major streaming services.
When it comes to gaming and Twitter in real-time, they go hand-in-hand. 73% of gamers surveyed admit to checking Twitter while streaming4 esports and gaming to see what other gamers are saying about the latest gaming news which makes it an inherent part of the overall gaming experience. 
Gamers aren't only watching livestreams.
Actually, they're also watching a ton of videos on Twitter. 
According to a study commissioned by Twitter, 89% of gamers and esports fans5 agree that "being on Twitter helps me to immerse myself fully in the esports/ gaming content." And that involvement goes way beyond Tweets and hashtags.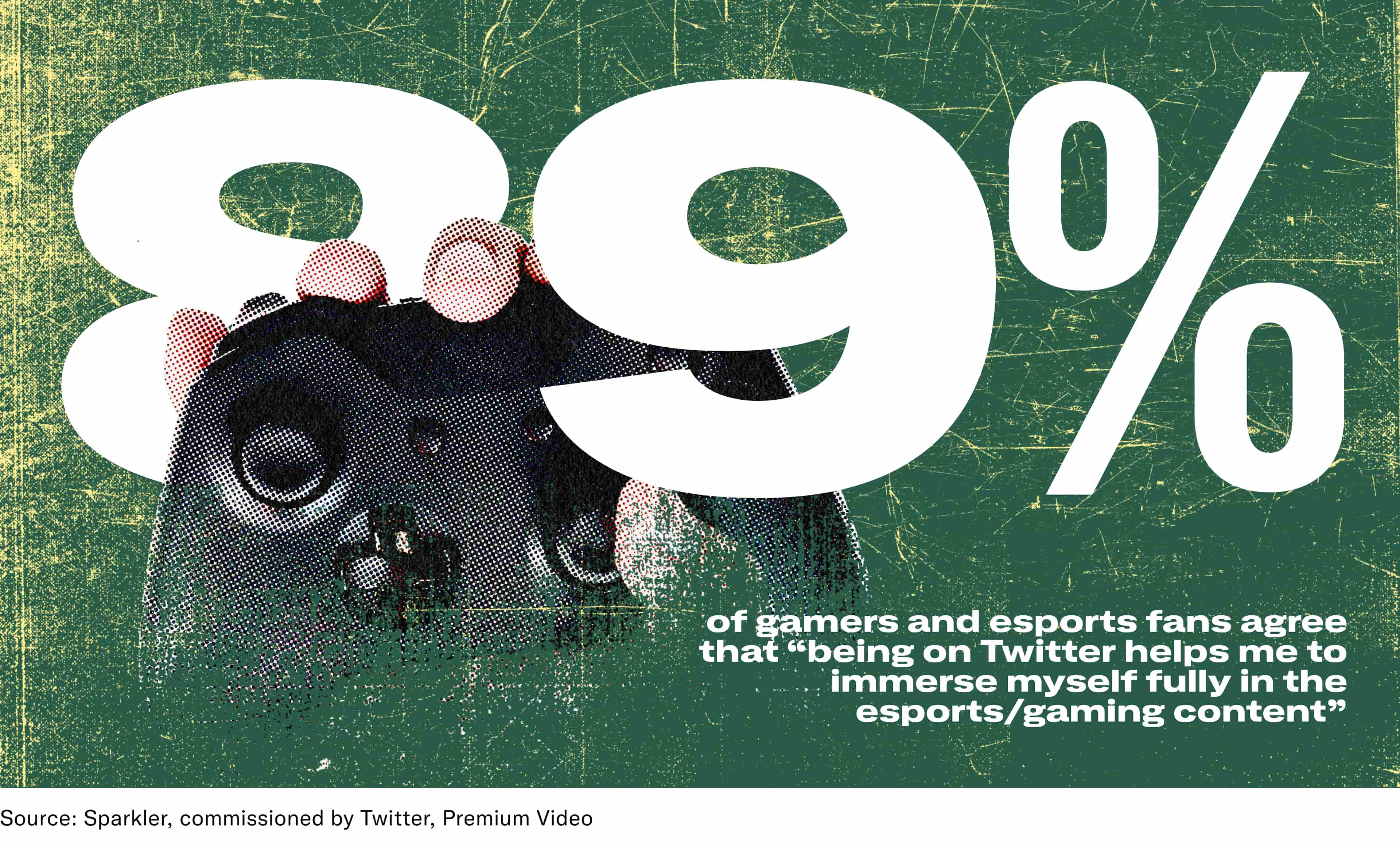 Gamers are watching video on Twitter because it provides them with a fully immersive experience — not only can they stay current with the latest clips, recaps, and exclusives, but it also enables them to get involved in real-time conversations with reactions as fast as their lightning reflexes allow them to write them out.  
In fact, Twitter had 12.5B video views6 by gaming publishers in the US in 2020, and those numbers continue to level up.  
Gamers are ready to engage with brands on Twitter. 
If your brand is looking to connect with the gaming community, Twitter is the place to do just that. In fact, 80% of Twitter esports viewers surveyed7 like it when a brand joins in on the conversation. And when the occasion arises, the gaming community even loves hearing from brands about what they're streaming, too.
Which means gamers are waiting for you on Twitter — and if you're in the conversation, you're in the game.
Rishi Chadha has more than 11 years of experience in the esports and gaming industry. As the global head of gaming partnerships at Twitter, Chadha brings exceptional content from gamers, global gaming leagues, and esports franchises, publishers and developers to fans in real time, while driving reach and revenue for these strategic partners and Twitter.
Sources
1. Source: Twitter Internal Data (Semantic Core). Unique Authors. June 20, 2020 - June 20, 2021. Global. 
2. Source: Twitter Internal, 2020
3. Source: Twitter Internal Data (Semantic Core). Tweet Volume. June 20, 2020 - June 20, 2021. Global. 
4. Source: (Mobile + Mobile): Global Web Index, Audiences - Twitter Gamers: (Twitter user reach + Devices used for gaming; Console, PC, Tablet, Streaming Service, smartphone, handheld) Twitch Gamers: (Twitch user reach + [same platform]], Q3 2016 to Q3 2019
5.Source: (Mobile + Mobile): Global Web Index, Audiences - Twitter Gamers: (Twitter user reach + Devices used for gaming; Console, PC, Tablet, Streaming Service, smartphone, handheld) Twitch Gamers: (Twitch user reach + [same platform]], Q3 2016 to Q3 2019
6. Source:  Tubular Labs, Content from US Gaming creators + Esports related content (Keyword search), Videos uploaded anytime, Videos with 1000+ views, Video views in 2020. Pulled 8/19/21
7. Source: Twitter x Streaming Consumption Behaviors – January 2021