Insights
The Conversation:
Today & Tomorrow
10 fresh insights into people's changing behaviors.
Where will the future take us? How might life be different when we arrive? To answer these burning questions, we looked at billions of Tweets (yes, with a B) to inform a national study with Twitter Insiders on the changing behavior of people in the United States. The result? Ten insights to help guide your brand into tomorrow.
Everyone, under one roof, every day, all day. This new era of togetherness is reshaping the dynamics of cohabitation and family living. Whether people are upending traditional gender roles or just feeling happy to have more time with the kids, the talk on Twitter tells us these changes are lasting and positive.1 Cue adorable toddler Zoom cameo.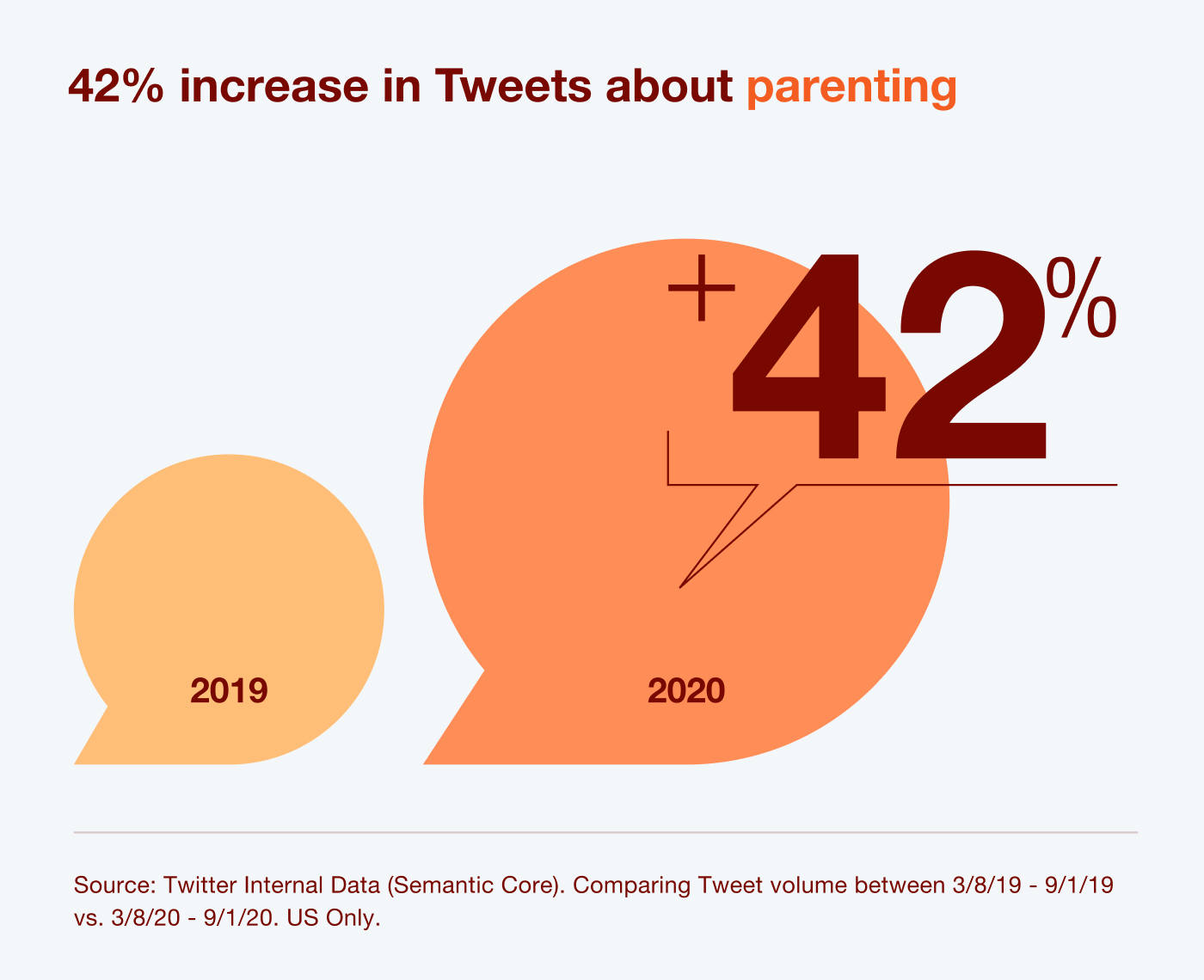 2. Fewer friends, better friendships
Remote work. Awkward zoom dates. Physically distanced barbecues. The shake-up of our typical social circles has forced people to re-examine their friendships and prioritize fewer, deeper connections. More than half of our poll respondents say they've made critical changes to their friendships — decisions that make them feel proud and hopeful.2
3. Grieving, learning, healing
We are a country united in grief. We mourn the loss of lives, livelihoods, and our sense of security. Conversations on Twitter associated with grief jumped +51% year over year.3 Time will reveal the true toll of our losses, but the healing can only begin when we acknowledge and confront our pain, together.
4. Mental health has entered the chat
Mental health is a taboo subject. At least it was. The coronavirus crisis has encouraged people in the United States to open up about their struggles with mental wellness and reject outdated stigmas. Talk of anxiety spiked in March3 but the newly transparent conversation has people feeling hopeful and empowered. For brands and employers, the way forward is clear: Act with empathy.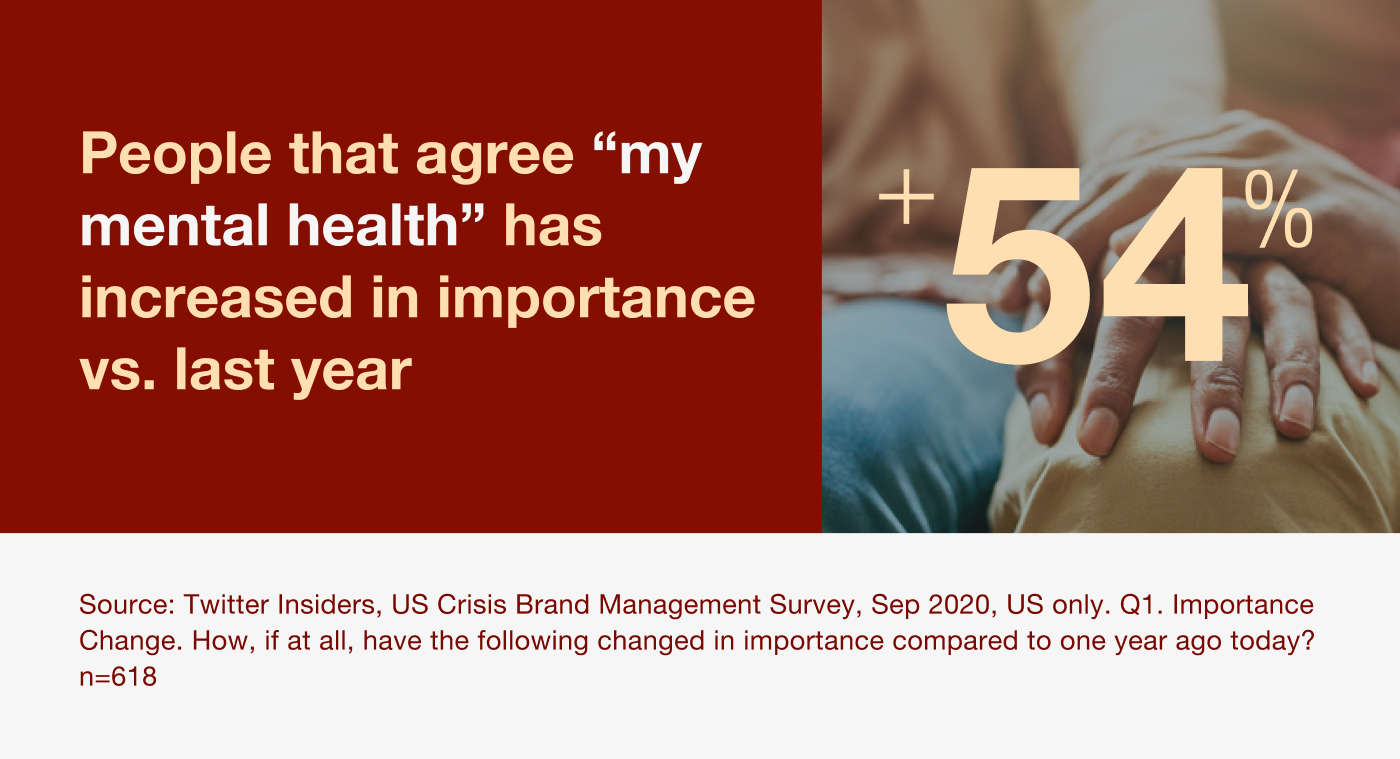 5. The rise (and fall) of sourdough
Quarantine hobbies: lifelong passions or boredom Band-Aids? According to the talk on Twitter, the answer is both. Some people say they will remain sourdough stars, while others will get back to their usual culinary routine. As our country heals, the hobby obsession may be less of a universal truth.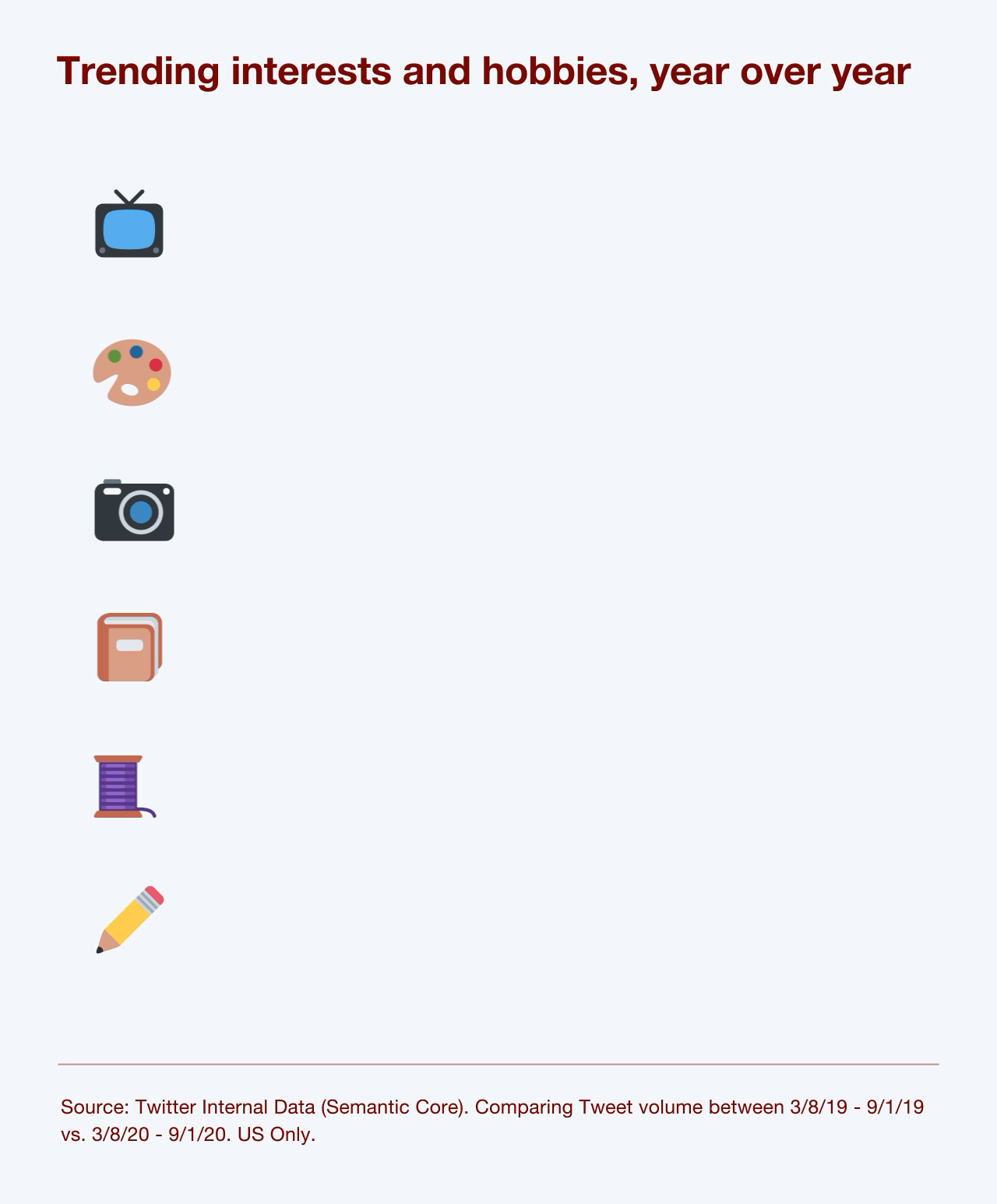 6. Is the grind gone for good?
A little perspective goes a long way. The forced slowdown has given many people a moment to stop and reflect on how they live their lives. The talk on Twitter shows a yearning for simpler times. Conversations around #bucketlist and YOLO are back (yes, really). It's out with the relentless hustle, and in with a more wholesome, healthier sense of clarity.

The traditional 9-5 is over. Long live whatever works. One look at Twitter shows us that livelihoods today come in every shape and style. And more changes are on the way. The WFH conversation alone is up +375% year over year.3 So how can brands help as half the country struggles to balance life and work under one roof? Match nuanced experiences with nuanced messages.
8. Have you checked on your team today?
As life changes, so does work. And brands must adapt to shifting expectations. Tweets showing workplace appreciation increased +44% year over year, as did those expressing frustration, up +39%.3 More than ever, companies must be attuned to their employee's needs and act as humans first, advertisers second.
9. Give a dollar, give a damn
People are giving more than money. The experiences of the last year triggered a deeper commitment to social responsibility. While Tweets about donating are up +69% year over year,3 people are also taking meaningful action to drive permanent change — and they expect brands to be right there with them.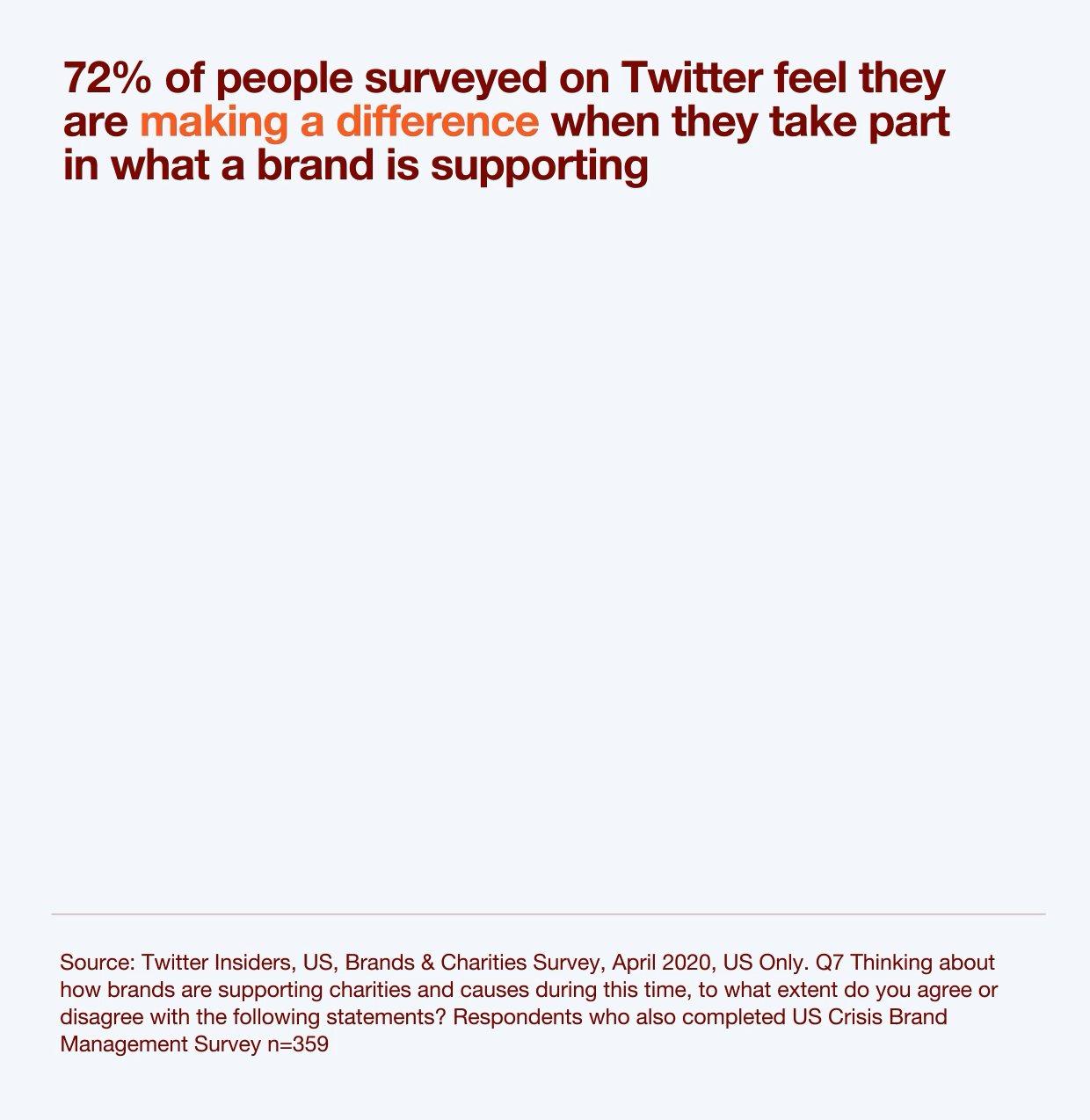 Racial injustice in the United States is not new. But today the conversation is surging with no sign of slowing. People and brands are stumbling and learning hard lessons in real time. The days of performative allyship are over. We are all accountable for how we spend our time, energy, and money. Bottom line: Inaction is not an option.

Where do we go from here?
The talk on Twitter offers a precious window into the lives and minds of real people. Every lived experience in this country is unique. We all have our own story, our own pleasures and challenges. As marketers, we can find our place by paying equal attention to both the big cultural changes and nuanced behaviors of our audiences. As people, we can lead with empathy and act with humanity.
Sign up to have more insights sent straight to your inbox.
Ryan Oliver (@Ryno) is the senior director for Twitter Next, overseeing the United States and Canada. The team, with presence in nine markets, is a cross-disciplinary group of marketers, creators, technologists, and producers – focused on delivering custom ideas and unique solutions to help brands achieve their marketing and advertising goals. 
Source:

1. Twitter Insiders, US Crisis Brand Management Survey, Sep 2020, US only. Q3. Permanent vs. Temporary. For how long do you think each of these will remain more important or less important? n=618     
2. Twitter Insiders, US Crisis Brand Management Survey, Sep 2020, US only. Q2.Sentiment Change You indicated the issues below have changed in importance for you this year compared to last. How do you personally feel about their shifting importance in your life? n=618
3. Twitter Internal Data (Semantic Core). Comparing Tweet volume between 3/8/19 - 9/1/19 vs. 3/8/20 - 9/1/20. US Only.