Insights
The rise of ‎#FONK has Canadians looking to brands for info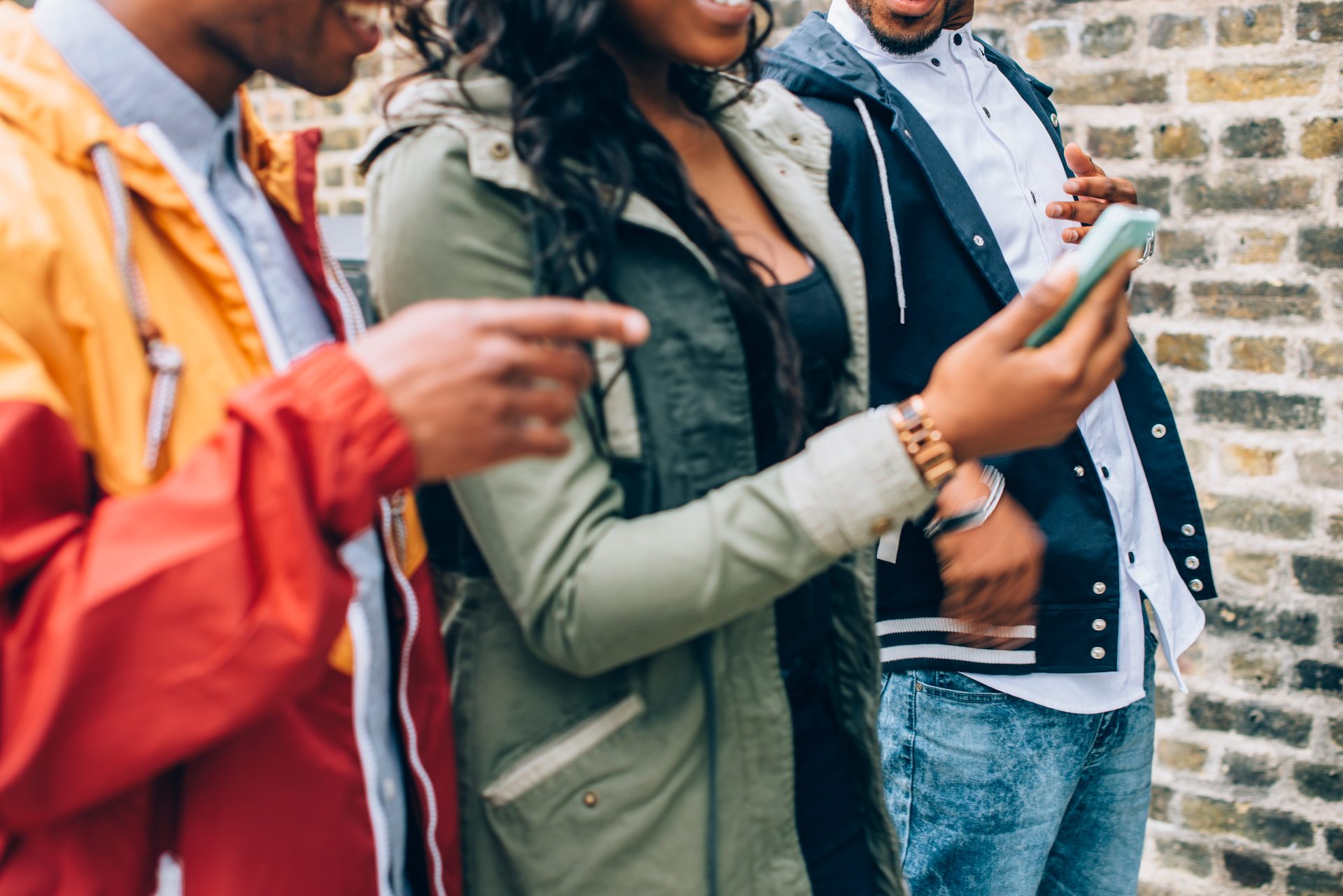 The rise of #FONK has Canadians looking to brands for info
There's a lot happening in today's ever-changing world, whether it's the latest cultural event, natural disaster, product launch, or hilarious meme. It can be hard keeping up with everything, given the overwhelming amount of information at our fingertips.
In response, Canadians' mindsets, needs, and priorities are shifting. FOMO (fear of missing out) is a fading trend as people are now prioritizing activities that really make them happy versus over-scheduling their lives. At the same time, there has been a dramatic shift in the importance Canadians place on being informed and seeking information online.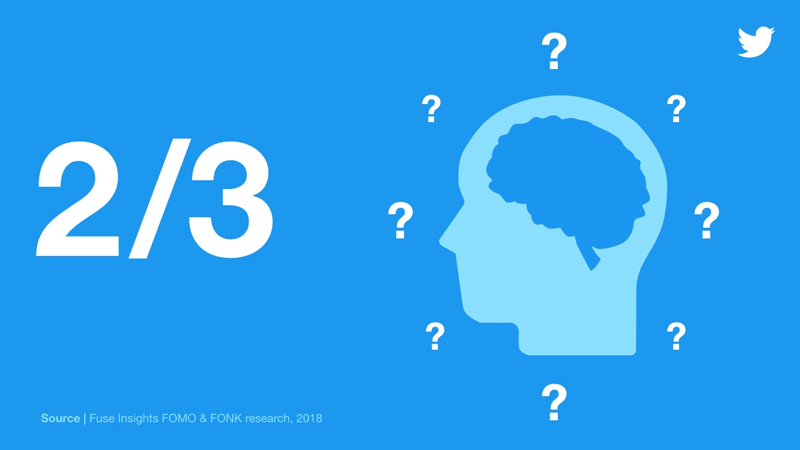 Two-thirds of Canadians on Twitter surveyed say they have at least a bit of FONK (fear of not knowing). The desire to be up to date, well rounded, and informed is especially evident and unique amongst Twitter users, who use the platform to discover what's happening - whether they're interested in music, technology, current events, celebs, products, etc.
We also know that brands are the #1 type of account Canadians follow on Twitter1, so there's a big opportunity for brands to take an active role in feeding Canadians' thirst for information.
Using quantitative research, we worked with Fuse Insights to better understand Canadians' changing mindsets and to help uncover opportunities for brands to tap into moments that matter.
Born out of the fear of not wanting to be left behind, FOMO led to overscheduled lives. But, only 29 percent of Canadians experience this feeling today, with JOMO (joy of missing out) becoming increasingly prevalent.
Today, fewer young Canadians say they're social and outgoing (according to Global Web Index, there has been a 65% decrease among 25-34 year olds in the past year alone). In fact, half of all Canadians say they go out less than they used to, mainly due to cost, time, and a general lack of interest. Plus, half of Canadians agree that there's so much content online about events that they don't feel like they're missing a beat, even if they're not actually there.
In fact, two-thirds of surveyed Canadian event goers say they regularly post about the events they go to.. While viewing these posts a couple years ago likely added to FOMO, Canadians are also becoming sceptical about what they see, with the majority saying they don't believe the posts they see on Instagram or Facebook are an accurate representation of people's lives and they're getting bored of seeing the same repetitive posts of vacations, meals, etc.

The decline of FOMO has been met with a rise of FONK (fear of not knowing). In fact, Canadians are twice as likely to have FONK vs. FOMO. Information-seeking behaviours — from catching up on the latest news to doing research prior to a purchase — are the most important and frequent things they do online. Over the last few years, we've also seen a significant shift in why people use social media overall, with more turning to social channels to research and find products and to stay up to date.
When it comes to Twitter users, being in the know and well rounded are particularly important. 9-in-10 Canadians on Twitter that were surveyed feel it's important to have different perspectives on news and events so they have a more informed understanding of what's happening. Twitter users are also significantly more likely than non-users to be a key source of product and brand information for their friends and family.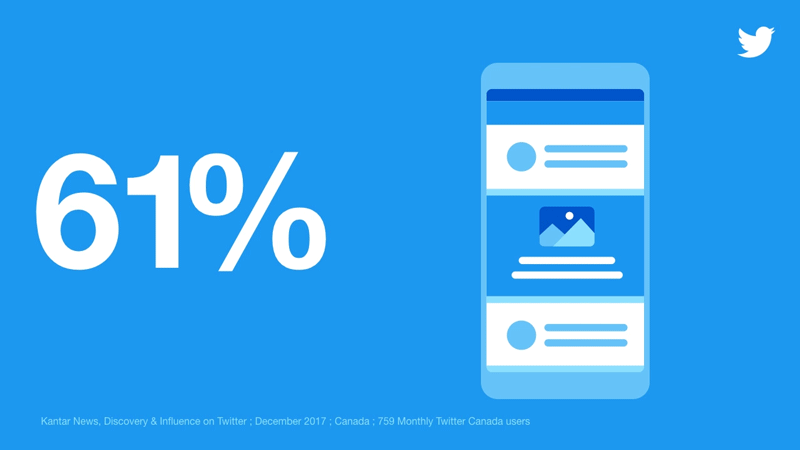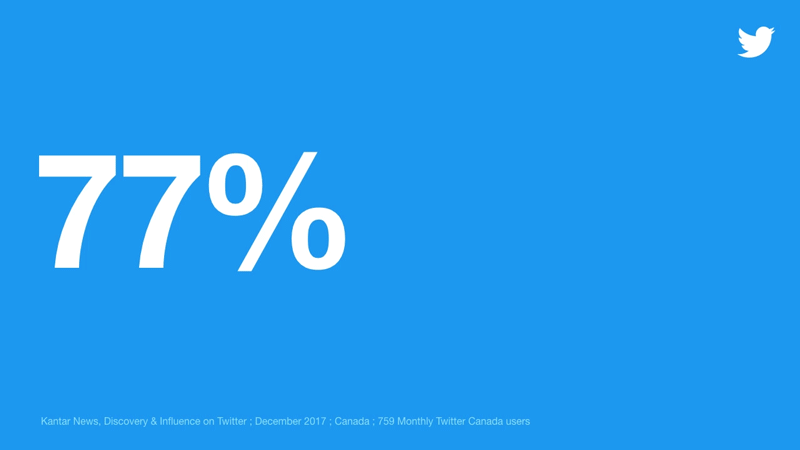 Brands help feed our need for info
Brands can play a big part in delivering this experience. Seventy-five percent of Canadians on Twitter surveyed say having more of a presence on Twitter makes a brand seem more responsive and 71% say it makes a brand seem like they care more about their customers.
In fact, neuro research has shown that Twitter is the only platform measured where people are paying as much attention to ads on Twitter as they are to all of the other content in their feed.2
The value of connecting your brand with what's happening IRL
For brands, there are huge benefits in taking part in what's happening and being associated with conversations that align with their values.
Connecting with your audience during moments that matter helps forge strong, emotional bonds and builds brand love. Research has shown that a 10 percent lift in perceptions that a brand is associated with "what's happening" results in an 8 percent increase in positive brand perceptions overall.
So how can brands activate about what's happening IRL? Here are a few tips:
1. Bring people together: Invite participation using content that creates community, conversation, and engagement.
2. Read the room: Do your homework, gauge the mood, and understand the conversation.
3. Create for Twitter: Design for both speed and depth.
4. Back it up: Authenticity is paramount, so make sure you are connecting to a passion, interest, event, or cause in a tangible way.

Twitter worked with Fuse Insights to field an online quantitative survey, in both English and French. A total of 1,515 Canadian adults, demographically representative of the national population by age, gender, and geography, were surveyed. Both Twitter users and non-users were included.

Footnotes:
1. Kantar Twitter Audience Deep Dive Research, Canada, 2018. Study commissioned by Twitter.
2. Source: Dentsu Aegis Network Twitter Video Comparative Research Study, Mediascience, June 2016. Study commissioned by Twitter.