Insights
TV fandoms are the secret sauce to driving tune-in

Research shows fandoms are influencing TV tune-in more than demographics
When you think about some of the most popular TV shows of all time, you can imagine that the people who follow them represent a diverse range of ages, genders, and ethnicities. So why are M&E marketers still focused on targeting audiences through demographics alone? 
The fact is, communities organized around their interests are more effective at driving TV tune-in than demographic-based groups. The passionate people you want tuning into your TV show are proud members of their chosen fandoms.
At any given moment, these television superfans are highly engaged in conversation about their programs of choice, and they thrive on Twitter, where their timelines are curated to reflect the niche interests they have in common with others. 
Live from Twitter, all day and night 
Social media has changed the way we think about community, especially when it comes to entertainment. 
When it comes to television fandom communities, it wasn't always so expansive. In the past, people you huddled around the TV with became the very community you relied on to talk about those shows at the water cooler, at work, or in between periods at school. Today, things have changed: Communities gather based on similar interests, rallying around the dozens of shows saved on their watch lists. Regardless of geographic or cultural boundaries, these avid TV fans gather in real time on Twitter. 
In fact, 72% of people surveyed on Twitter say that the platform makes them feel like they're part of an online community while watching a TV show. 1So no matter where they are in the world, fans never watch alone when they're watching with Twitter.
A new definition of "community" 
Think about it: You're tuning into "WandaVision" or "The Mandalorian" so you can be ready when the next episode drops — but so are your parents, your co-workers, and their kids. That's why it's time to stop using demographics to define community. 
We saw this shift happening on our platform, so we conducted research with Samba TV and Pulsar that looked at 5.7M Tweets from 1.7M unique people on Twitter across 30 shows and six genres. Our study identified 12 unique community archetypes, including Show Superfans, Black Culturists, Celeb Superfans, Gamers, Sports Fans, and more.
We then analyzed these 12 archetypes to understand which subgroups marketers should target when looking to drive tune-in. We found that interest-based communities tuned in at a rate 4x higher than demographic-based communities, and fandom communities tuned in at a rate 5x higher than demographic-based communities.2
That's because regardless of race, age, or gender, people love good TV.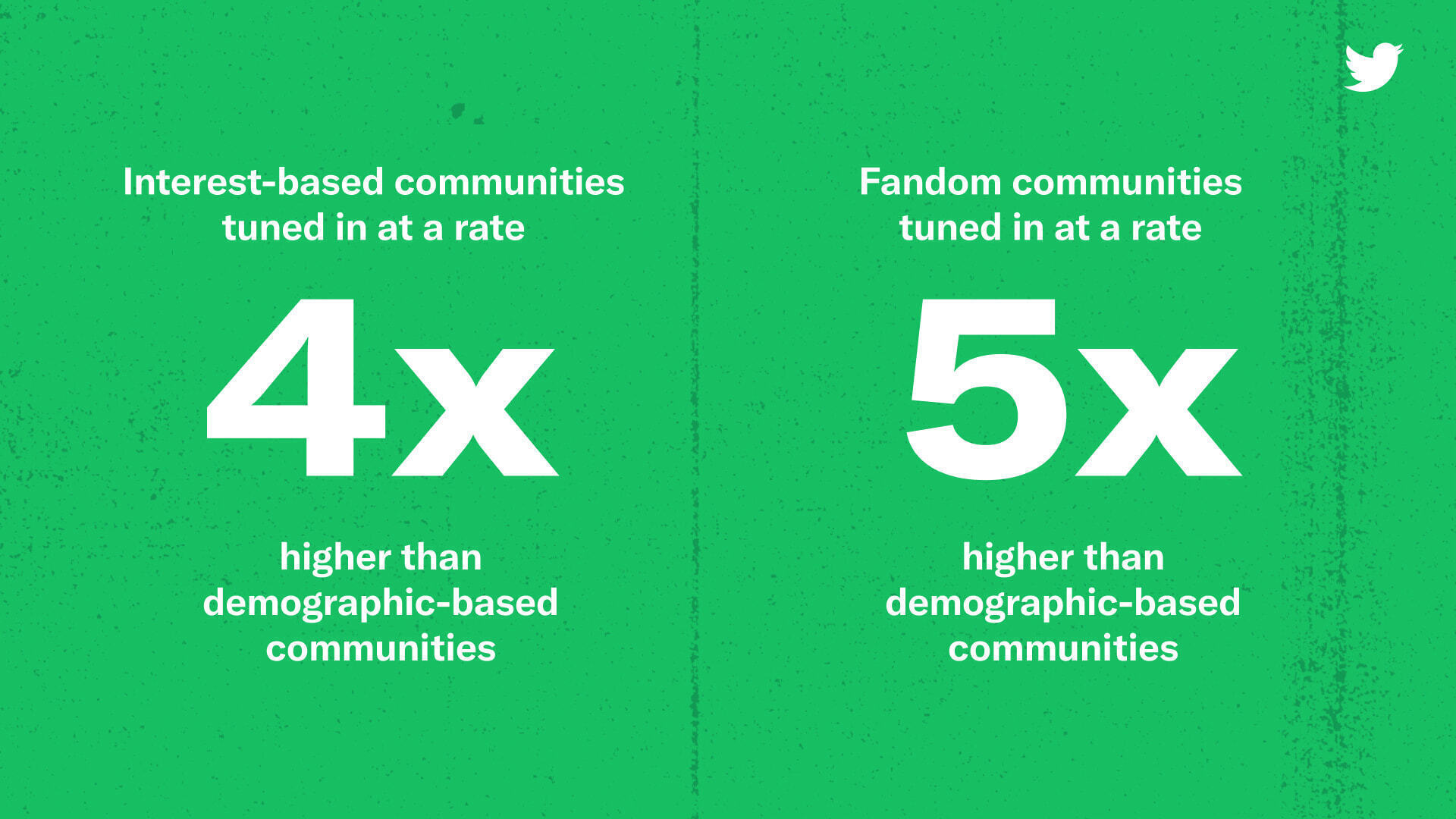 The Twitter conversation engine 

At the heart of interest-based communities are fandoms, and TV fans in particular love to stir up conversation about their favorite shows. The most narrowly defined and engaged interest-based communities are fandoms. These are the Supernatural Superfans, the Celeb Superfans, and Show Superfans. 
Conversation brings these folks together, and it's also why, according to our research, the conversation rate increases an average of 56% when a fandom community is present.3 That's why TV dominates the Trending Topics on Thursday nights (ever heard of #TGIT?). 
When anyone is exposed to conversation, Twitter data shows that TV shows see an average of 2.5x higher tune-in than they do when people are exposed to paid media alone.4
This exposure is bound to get more people interested in the show that's buzzing on Twitter.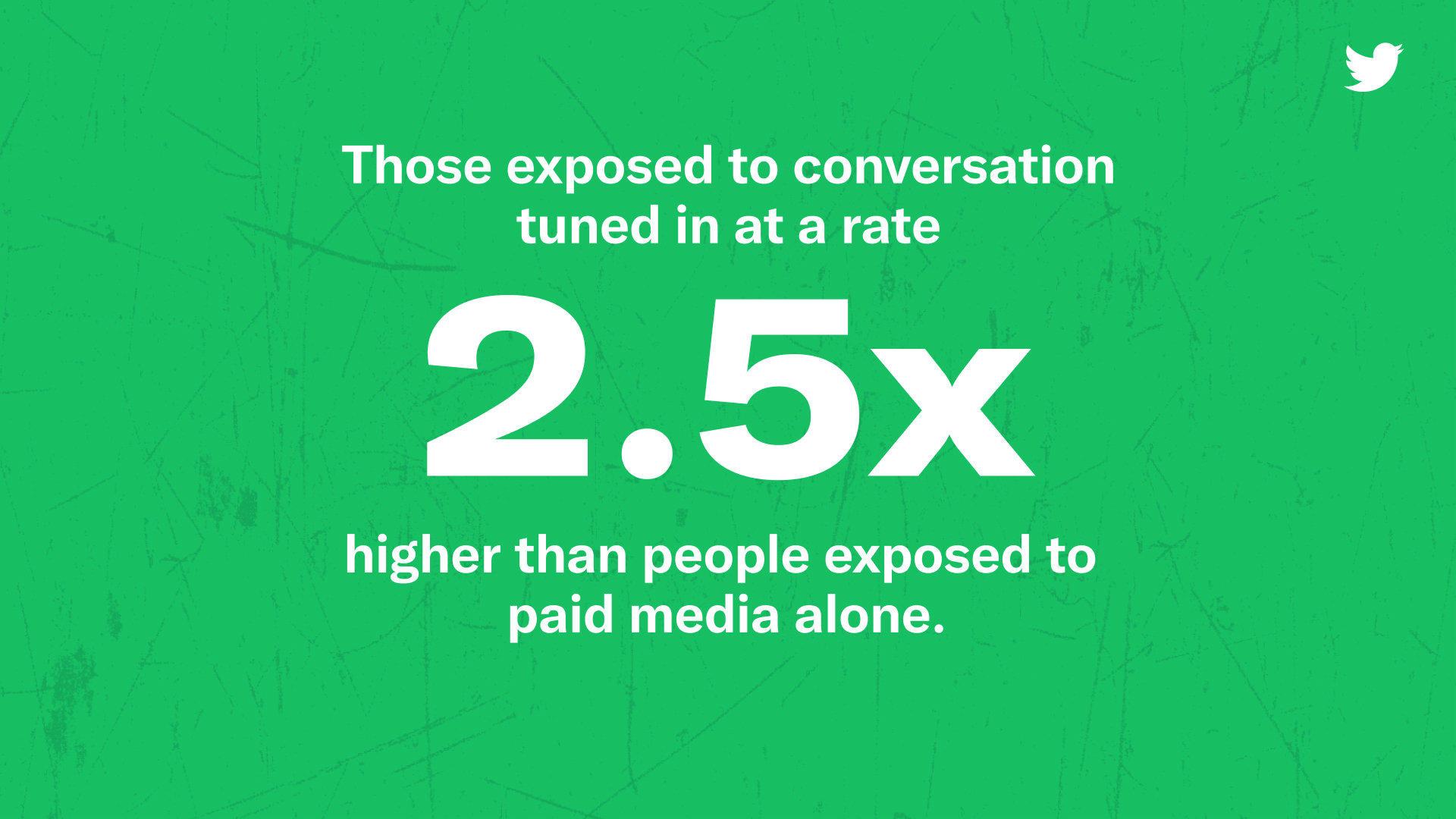 Tips for building a community of fans for your next TV show
Marketers, our advice for you is to start with a dedicated handle where fans can check in for updates, giving them a place to gather. 
Then, build on that momentum with follower campaigns, drive conversation with Twitter Takeover products, and create awareness about your show while inviting people to your fandom. 
When you start thinking about TV fans in a new way, you can create a community around your show. After all, entertainment heads are always looking for new content to binge and share with one another. 
John Carroll (@TheJohnCarroll) leads business marketing for the Media + Entertainment vertical at Twitter. In his role, John develops and manages marketing programs to build awareness and drive growth within the industry.
Sources
1: Twitter Insiders, US Only, October 21–28, 2020, n=167
2: Pulsar and Samba TV, commissioned by Twitter, Communities and Tune-in, June 2020, USA. Tune-in counted as watching a program for at least 5 cumulative minutes. Fandom n = 106,203, interest n = 104,168, demo n = 111,019, matched to Samba viewership panel and projected to US census
3: Pulsar, commissioned by Twitter, Communities and Tune-in, June 2020, USA. N = 365,118
4: Samba Tune-in Studies for Twitter, Timeframe [January 2020-April 2021], Media & Entertainment Category, US, N = 54