Insights
Big Screen Buzz: Three reasons you need Twitter to get audiences hyped for your next premiere

If there's one thing we've missed over the course of the last year or so, it's the communal experience of seeing a movie together in theaters and then unpacking it all on Twitter. 
The smell of popcorn. The seat-rattling surround sound. The collective "ooh's" and "aah's" heard from the audience. These are just some of the things we, as fans, have been anticipating leading up to the return of theaters.
And now that theaters have reopened, Tweets are showing that fans are returning week after week to see newly released films and reimmersing  themselves into cinema culture. And to share their reactions and thoughts, moviegoers are turning to Twitter. 
Which makes it an ideal place for your brand to get fans hyped about a soon-to-be released blockbuster and spark conversations around your next premiere.
Let's dig deeper into the moviegoers' relationship with Twitter.  Or as they say in the biz, are you ready for your close-up?
People on Twitter looooove going to the movies. 
A movie theater experience provides much needed escapism, like a two hour vacation for the mind. That's why Twitter loves getting engaged in the conversation surrounding a recent film — it's a continuation of the live experience. 
Leading up to summer 2021, a YouGov survey commissioned by Twitter indicated that 65% of moviegoers on Twitter anticipated going back to the movies.1 And they were also 92% more likely to return to the theater more often than non-Twitter users2 with many Twitter cinephiles even planning on going more often than they did before the pandemic. Now, don't these data points deserve a standing ovation?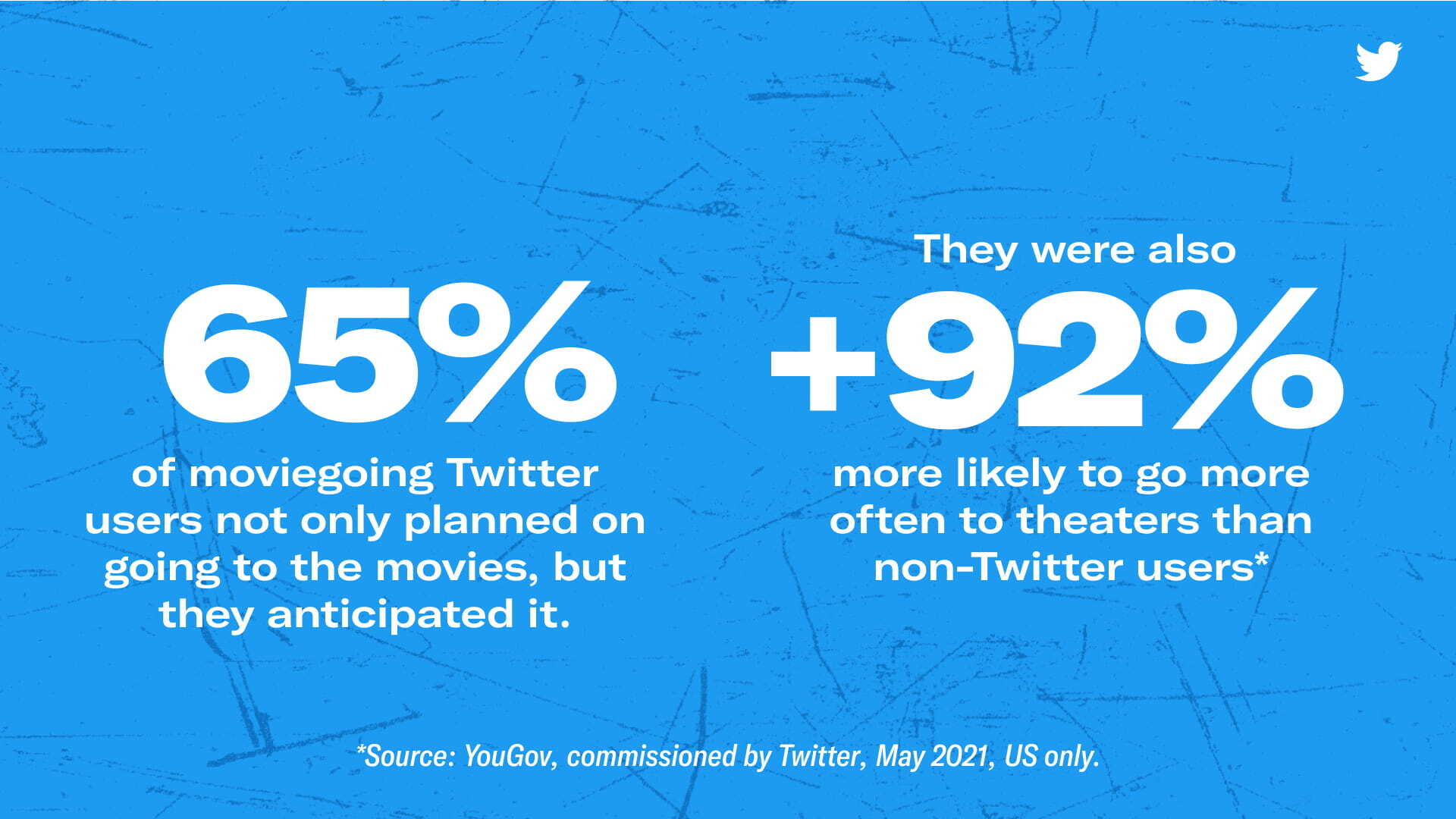 Twitter inspires fans from writing the Tweets to sitting in the seats.
Movie fans on Twitter are a passionate bunch, and like the action scene in a summer blockbuster, they don't hold back. Whether it's a new trailer drop, early advance buzz, or providing their own reactions, movie fans on Twitter are here for it. And when we say "here," we mean at the theater during opening weekend. 
Twitter movie fans are 60% more likely to see a movie when it premieres compared to users of competitor platforms3, and the anticipation expressed through Tweets and hashtags are where they express their anticipation.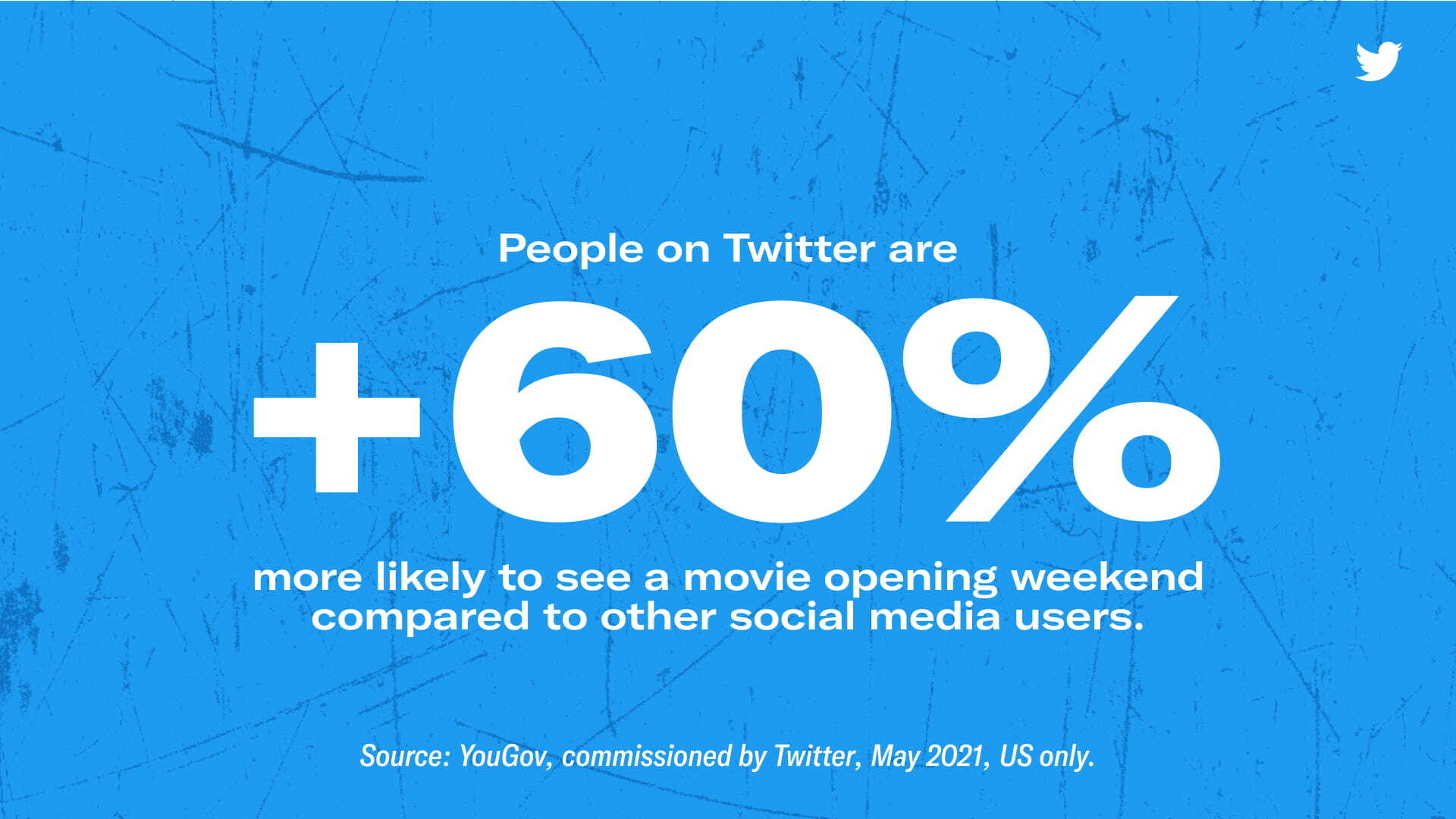 And about that anticipation. Trailer drops on Twitter saw a 35% bump in daily average organic video views.4 So the moviegoing community on Twitter sticks with the hype from day one until opening day. It's almost as if there's a connection between a Tweet and a seat.
Get them buzzing. 
Buzz. Hype. The stokedness factor. 
Whatever you call it, a successful premiere rollout needs the people talking about your movie. And as the conversation layer of the Internet, Twitter is where that buzz is being generated. In fact, a survey from 2021 commissioned by Twitter shows that people who use Twitter are 44% more likely to see a movie because of buzz than people who don't use Twitter.5
For a film like "Dune," which had to sustain anticipation for a full year past its original 2020 release date, Twitter was instrumental in maintaining the yearlong hype with 4.3M views of the trailer on Twitter alone. 
So, what are some ways you can drive buzz for your movie launch?
If you're still wondering if movie fans on Twitter are ready to engage: Here's your sign. Everyone knows that the around-the-clock community on Twitter is ready to discuss whatever drops, build hype around your trailer, and debate over plot points and fan theories.
Build anticipation. 
And the best way to accomplish all that is by first building hype for the trailer and teasing its launch through a series of Tweets ramping up anticipation. And when it's time to finally unveil your finely edited two minutes of epicness, launch it exclusively on Twitter. A movie that launches on Twitter exclusively can sustain conversations even long after its campaign, with a lift in the volume of Tweets by 46% compared to movies that launch trailers on multiple platforms.6


Turn your trailer drop into an epic event.
Leveraging cast and crew on Twitter is another effective way for making fans an instrumental part of the cultural moment. After all, Twitter is the platform for fan engagement with fourth wall breaking happening daily.

Use Twitter Ads to expand your reach.
Lastly, unlock more reach and bring more mass awareness to your trailer by owning the timeline with Timeline Takeover ads or Trend Takeovers in the Explore tab. It's through an effective, data-driven ad campaign that we can target the appropriate audience, get the right people buying advance tickets, and get your premiere that much closer to a box office record breaking weekend. 
And it seems as far as making the case for Twitter and your next premiere, that's a wrap. 
Now, cue the end credits. 
About the authors:
Felicia Dodge: Felicia Dodge (@feliciadodge) is part of the Audience Insights team at Twitter, leading the development of insights recommendations and strategies for brands across Media + Entertainment.
John Carroll: John Carroll (@TheJohnCarroll) leads business marketing for the Media + Entertainment vertical at Twitter. In his role, John develops and manages marketing programs to build awareness and drive growth within the industry.
Sources
1: YouGov, commissioned by Twitter, May 2021, US only.
2: YouGov, commissioned by Twitter, May 2021, US only.
3: YouGov, commissioned by Twitter, May 2021, US only.
4: Twitter Internal Data. Comparing average daily organic video views on Tweets from 3/1/20 - 12/31/20 to 1/1/21–4/21/21. US Only.
5. YouGov, commissioned by Twitter, May 2021, US only.
6. Twitter Internal Data, July 23 - Oct 10 2020. Global Data.