Insights
Boost the effectiveness of your ads with #TVxTwitter synchronization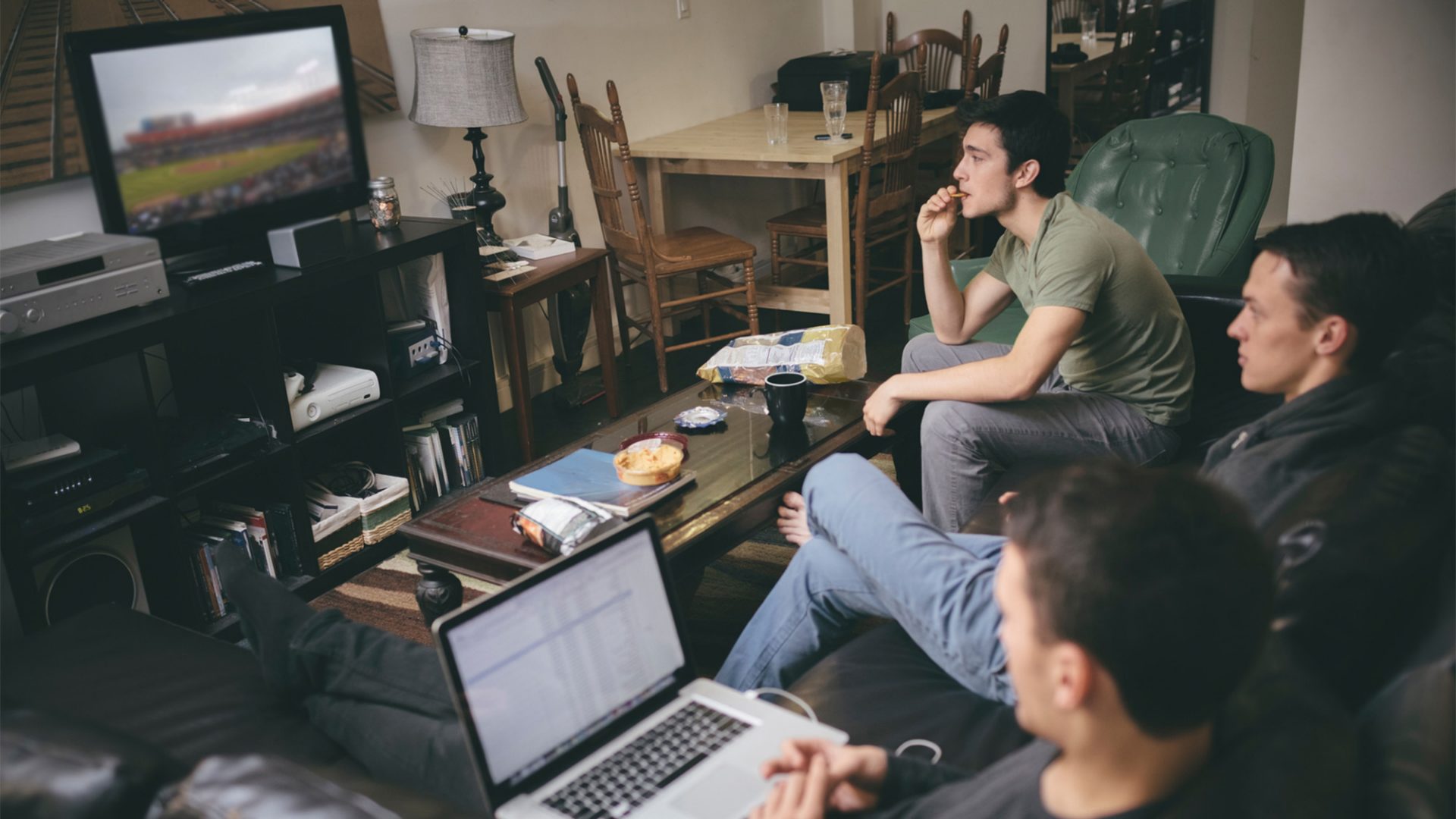 The results of our latest study reveal the high impact of ads broadcast simultaneously on TV and Twitter: People who were exposed to both Twitter and TV in a synchronized way show +96% in ad recall, and +33% in purchase intent vs. non-exposed people.
In our "Twitter's augmented TV" behavioral study published in partnership with iligo research, the behavior of Twitter users watching TV was analyzed in depth, as well as the potential opportunities for TV channels and the benefits for brands using those two media. The ad effectiveness section showed the success of campaigns led at the same time on both Twitter and TV.
In 2017, in order to more precisely measure and analyze the impact of synchronized ad campaigns, a new study was created to measure the impact of slots simultaneously broadcast on TF1 group TV channels and on Twitter. The targeted video campaigns on Twitter of 3 brands from the consumer goods sector were put in place, each one of them being immediately triggered when the ad was broadcast on one of the TF1 group's channels thanks to 4C Insights technology. 
Twitter is a powerful attention and engagement amplifier for TV. The power of the TF1 group's TV slots coupled with the creative possibilities of Twitter is great news for advertisers
The TF1 group's programs have a unique ability to engage with viewers, and the hashtags of our shows (#KohLanta, #NMA, #Quotidien, etc) are in the Tops Trends in France. The synchronization of advertising messages between Twitter and our advertising slots is an opportunity for brands to develop greater complementarity between messages and thereby significantly boost the advertising effectiveness of their campaigns.
Synchronization makes a lasting impression
In individuals exposed to ads on either the TF1 group's channels or on Twitter, the memorization index is 172, whereas for those exposed to both simultaneously the index is 196. It is where this indicator is concerned that synchronization makes its greatest contribution.
The impact to brand awareness is also considerable because individuals exposed to a synchronized campaign on both Twitter and the TF1 group's TV channels, simultaneously, present an index of 134 (vs. 127 for single exposure on the TF1 group's TV channels or on Twitter).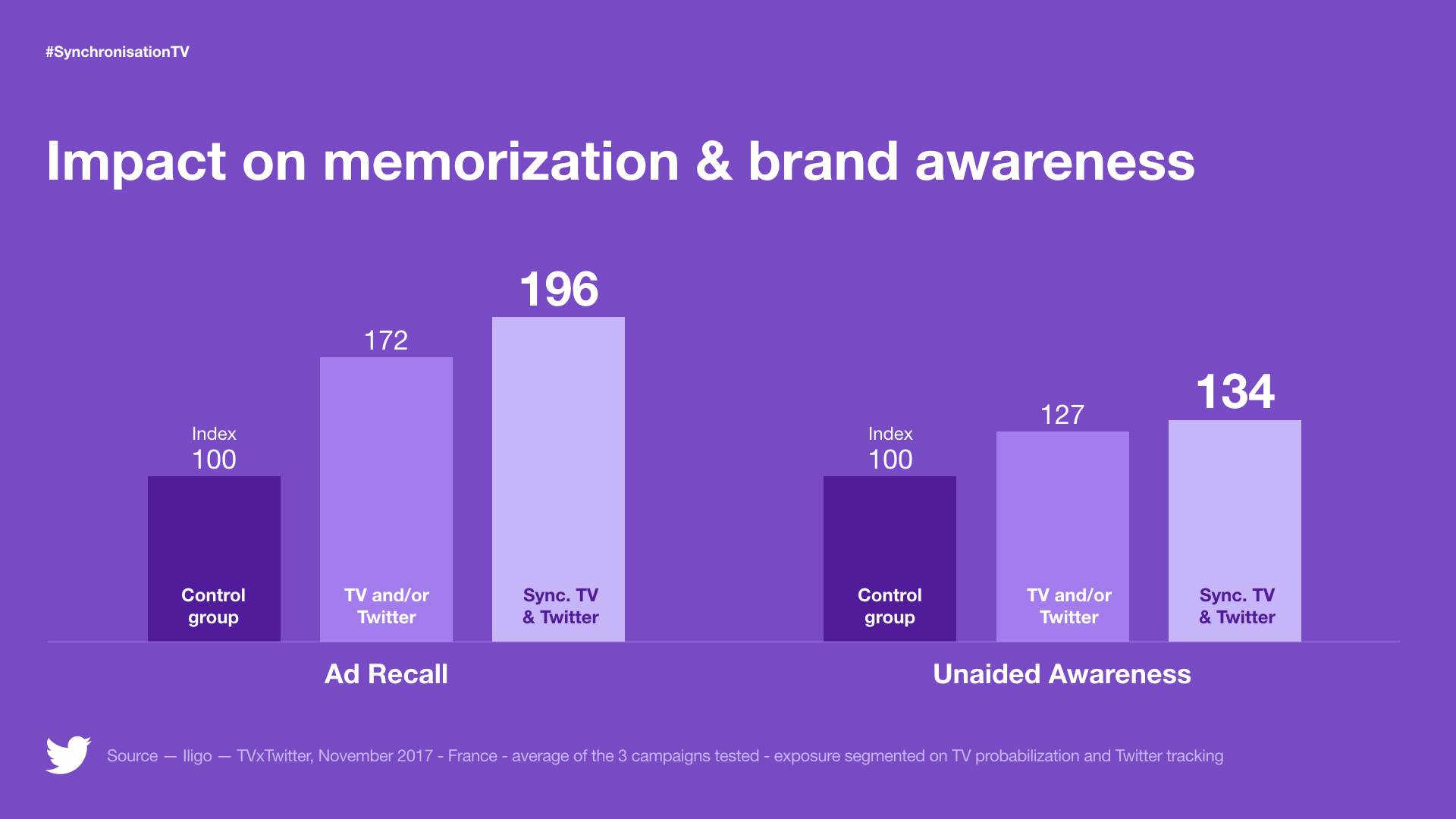 Better understanding and appropriation of the advertising message thanks to synchronization
After watching and rewatching the campaign, users who were simultaneously exposed to it had a better understanding of the ad campaign (+17% vs. +11% by comparison to the baseline of 100) and a higher proportion considered it to be relevant to them (+29% vs. +25%).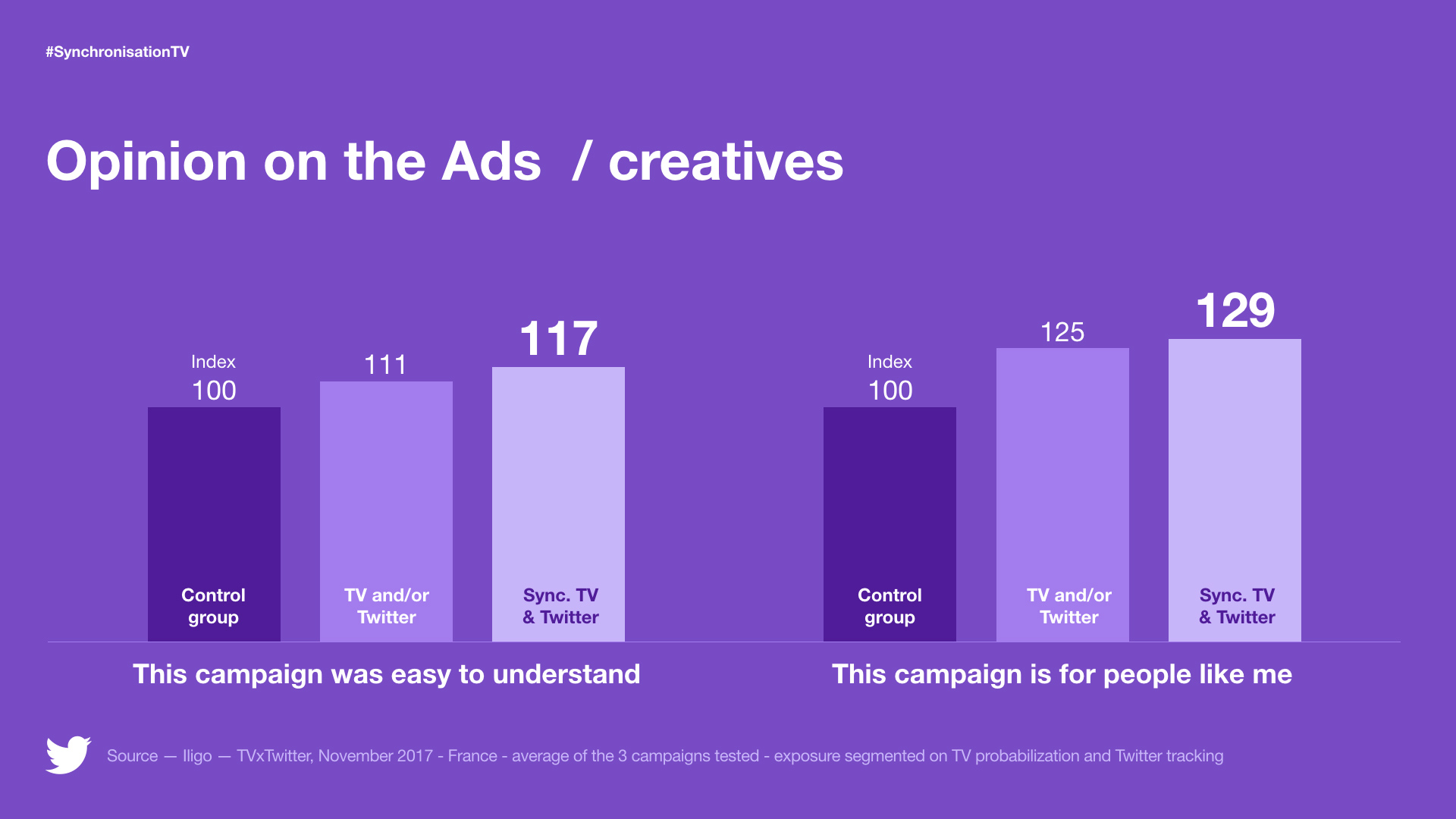 The brand's image is therefore reinforced
Generally speaking, the study revealed the impact of these campaigns was clearly greater in individuals who were exposed to them in a synchronized way, and this was true for all the indicators tested. The indicators presenting significant differentials were the brand's tone and sense of humor, as well as brand trust.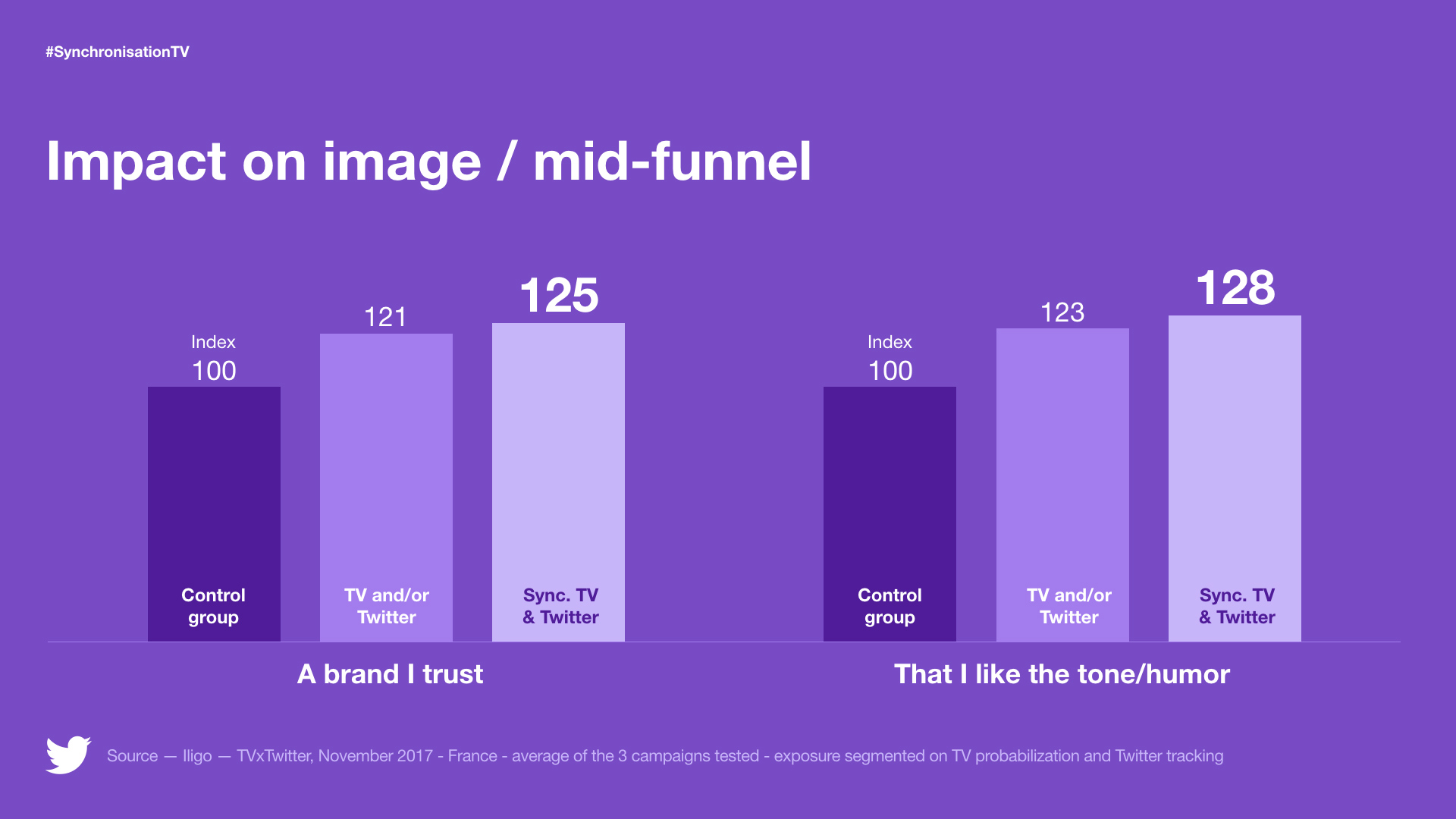 Synchronization encourages purchasing and advocacy
At the final step of the purchasing journey, a campaign's ability to make individuals consider buying is clearly boosted by synchronizationn (+33% vs. 27%). Advocacy also peaks in those simultaneously exposed to a campaign (+39% vs. +29%).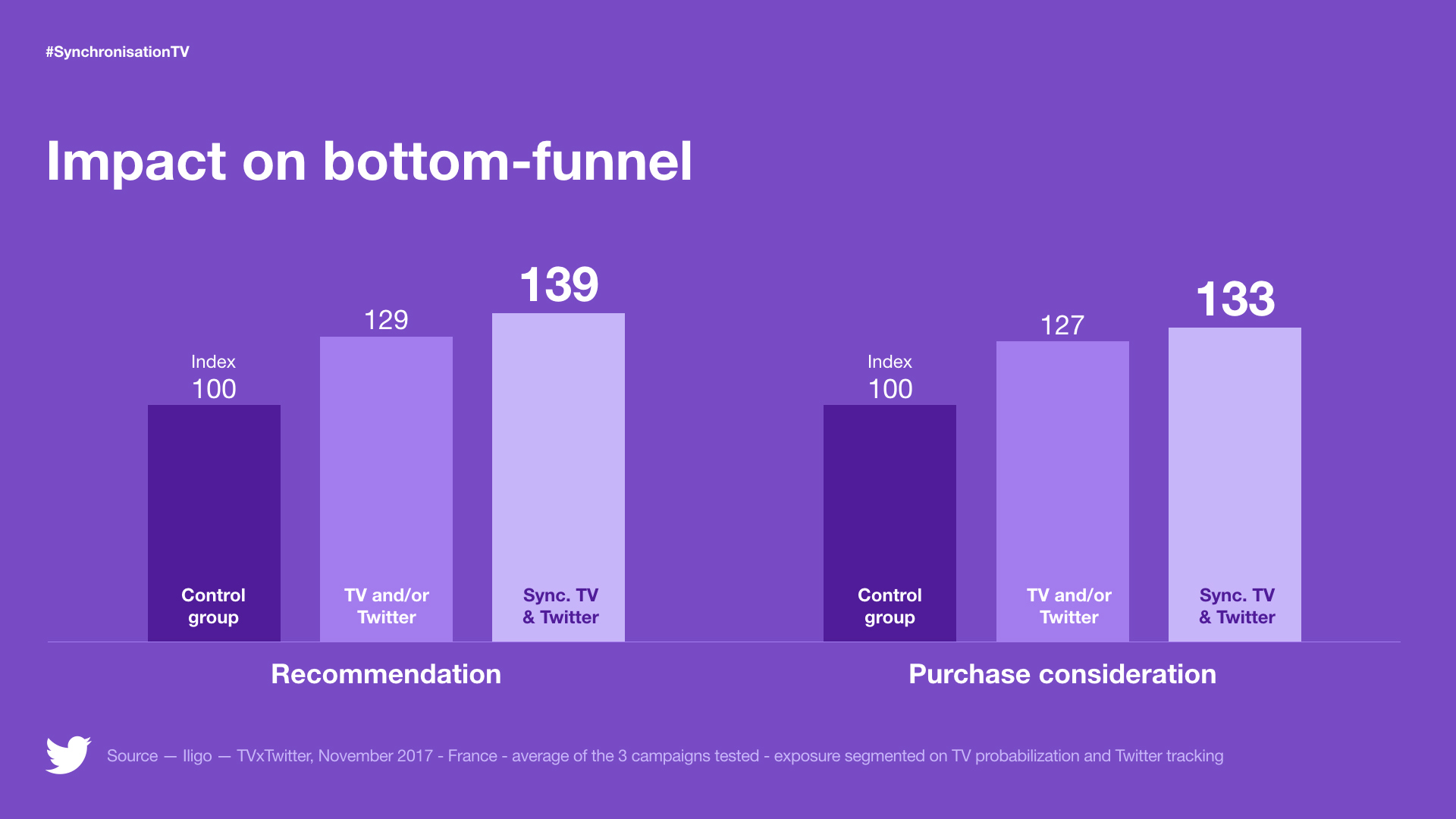 Excellent initial results for Mondelez and Unilever
Our campaigns on TF1 give us huge reach and good customer perception. Synchronization on Twitter reinforces our brand KPIs, which include reach, consumer engagement, incentive to buy, and consequently our effectiveness.
TV/Twitter synchronization allowed us to raise all of the brand KPIs (brand awareness, ad recollection, brand image) and to show TV and Twitter's complementary roles in engaging with our campaign target, with a highly optimized cost per 100% viewing.
Study conducted in partnership with @iligo_research in August and September 2017. Quantitative study carried out on 600 monthly users of Twitter in France for each of the 3 campaigns tested (representative of sex, age and socio-economic category). The results highlighted here are the mean results of the 3 campaigns tested. A probability calculation of exposure to TV was made based on the combination of a question on watching times (day, time, channel) with the TV campaign's broadcasting report. The Twitter exposure was obtained from site-centric data merged with questionnaires completed by respondents who had given their authorization.