Insights
Reboot is happening: tracking the holiday tech conversation on Twitter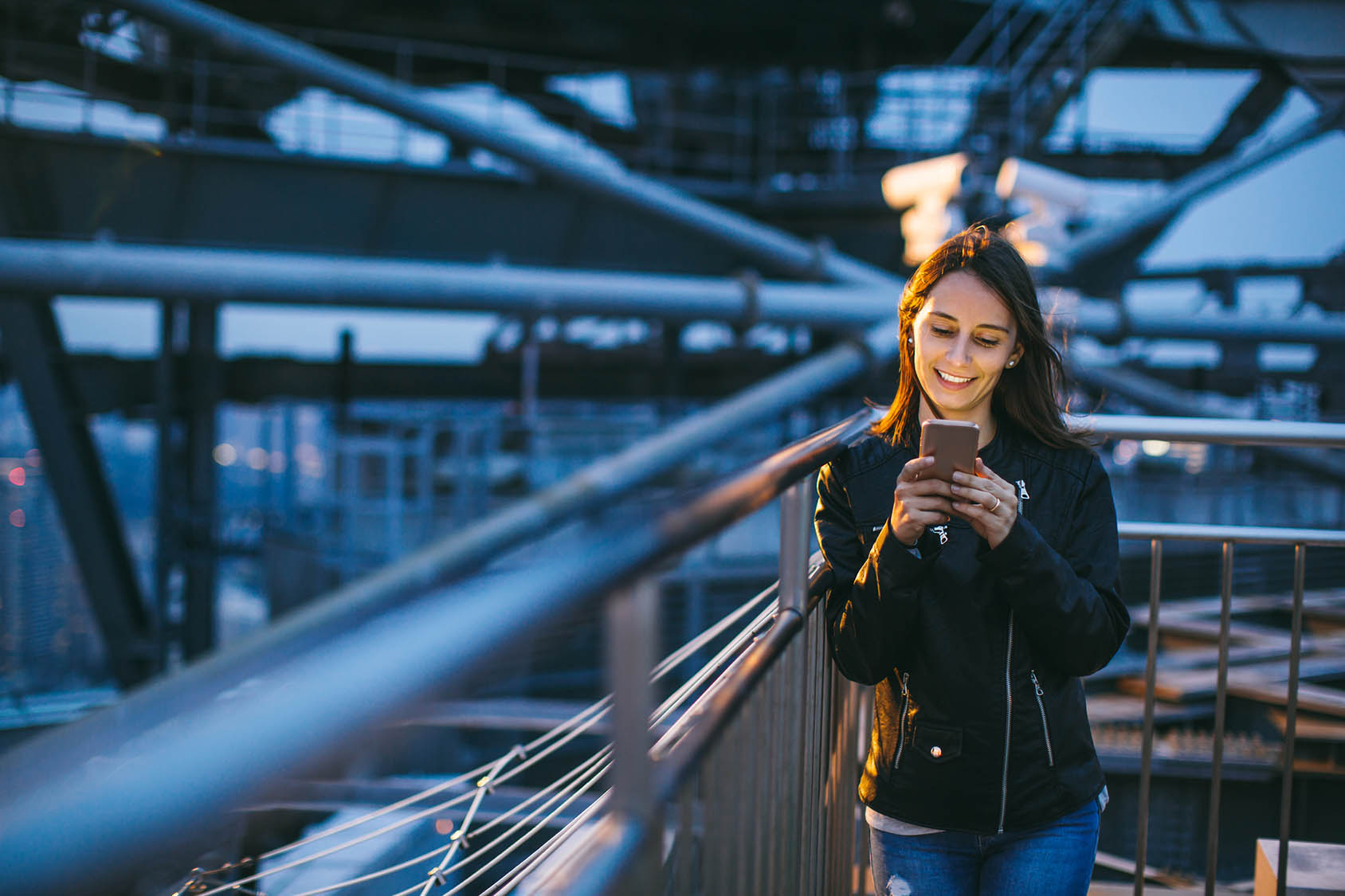 These are the gadgets in high demand this holiday season, according to the people on Twitter.
With the holiday season comes an exciting slate of new tech products, and people on Twitter are ready for it. The tech conversation hits a major high during the holiday months, with hundreds of thousands of Tweets per day about product releases, the latest deals, and reviews of the latest gadgets. As they actively plan their holiday shopping lists on Twitter, our engaged audience is in a mindset that makes them highly receptive to your brand's messaging.1
We tracked the holiday tech conservation on Twitter for three major product categories: telecommunications, wearables, and consumer tech. With these insights, marketers can easily leverage Twitter's creative and promotional tools to jump into the conversation and reach one of the most engaged and receptive audiences in social media.
With 421K Tweets per day, the telecommunications conversation is big enough to present opportunities to any telco brand. Smartphones, in particular, are a hot topic of conversation: we saw a 68% increase since the end of October in mentions of smartphones and Black Friday. In fact, people on Twitter are 29% more likely to buy a smartphone during the holidays than people on other social platforms.2 With the smartphone conversation taking off, marketers have an incredible opportunity to get in front of a receptive audience that's ready to shop.
And there's still ample time to get your message out there, as we know many people on Twitter are still shopping in December. In fact, other than Black Friday, Christmas Eve sees the most Tweets about shopping in brick-and-mortar stores. There's a big opportunity for online sales too, as 59% of people on Twitter surveyed said they shop for smartphones online. This means that both online and brick-and-mortar stores are well within the window of opportunity to get their products in front of the people on Twitter.
Which features are customers looking for in their new smartphone? According to YouGov, a leading market research and data analytics firm, long battery life is the most sought-after feature among Twitter users, followed closely by memory size and value.3
Which features do Twitter users say they want in a smartphone?4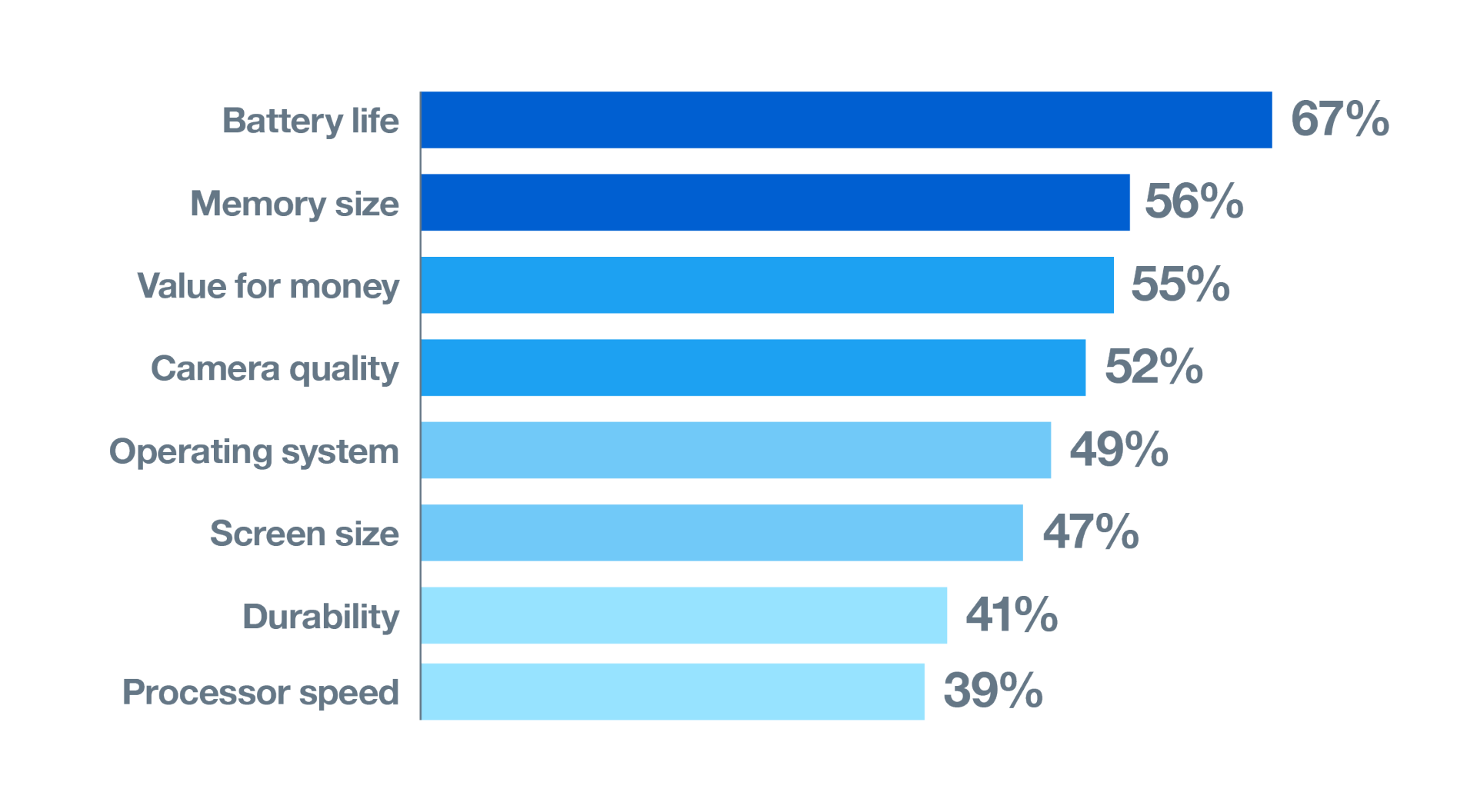 By understanding which features smartphone consumers are looking for, marketers can tailor their messages by highlighting relevant features in their products.
What are people on Twitter using their smartphones for? YouGov also found social media was the top answer (no surprise there), followed by messaging and email, and music.5
Which applications do people on Twitter use on the smartphones?6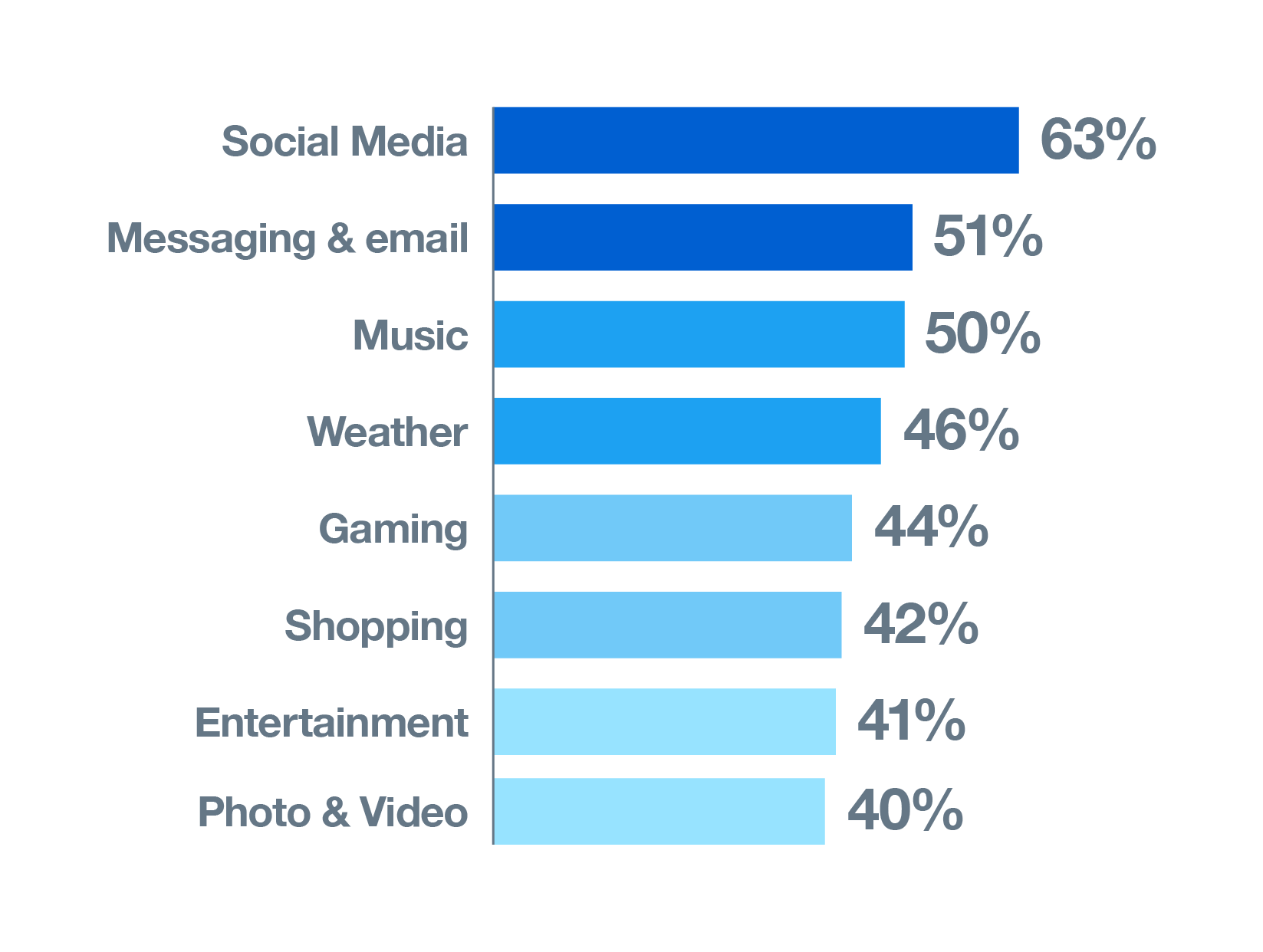 Wearables are among the most talked about tech items on Twitter this holiday, with 931k Tweets per day. We found that 65% of people on Twitter surveyed own a wearable gadget, and 39% of people on Twitter intend to purchase a wearable gadget soon.8
With this in mind, which wearables are people looking to buy? Headphones, smart watches, and fitness trackers were the top items.9
What type of wearables are Twitter users planning on buying in the near future?10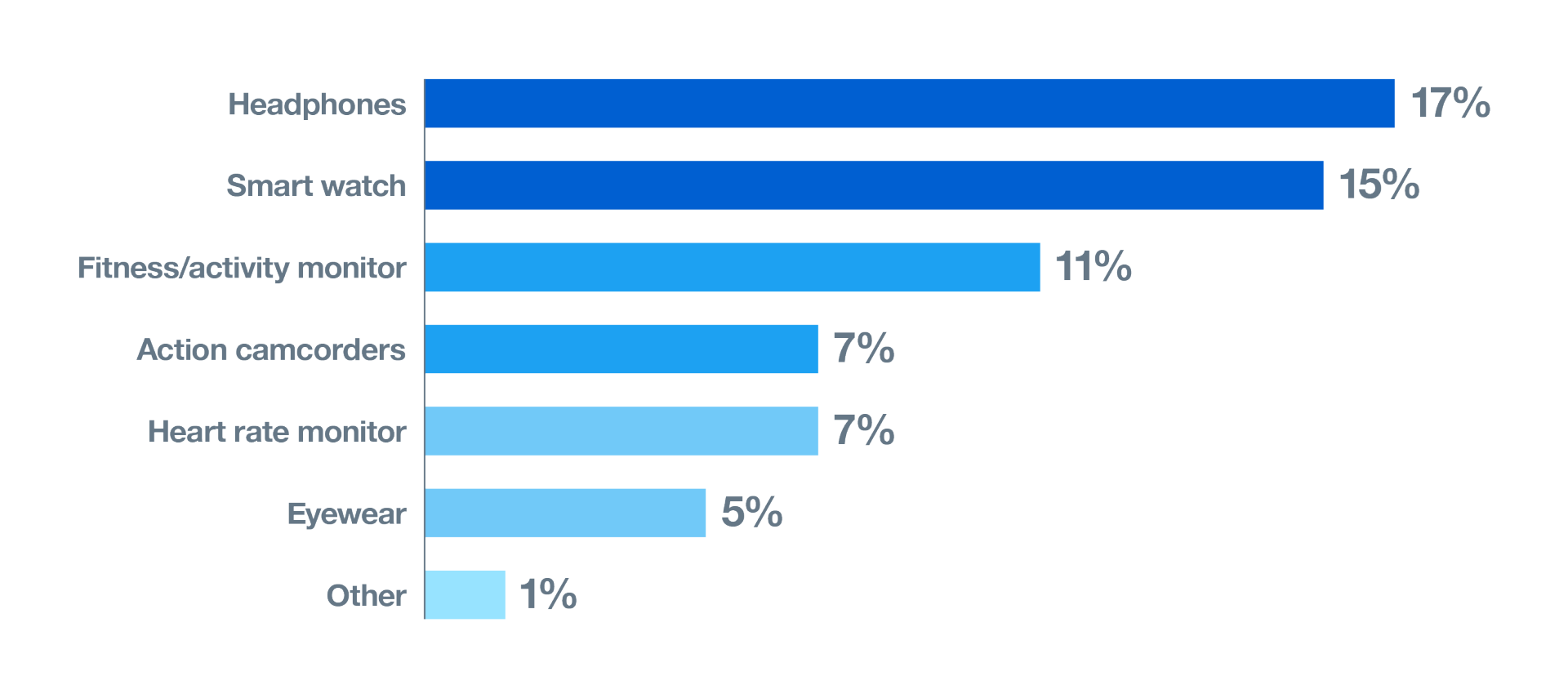 Diving deeper into the season's top category, we found that the majority of people on Twitter talked about wanting to buy headphones for office use (67%), followed by exercise (28%) and studying (5%).
The Black Friday and Cyber Monday conversation around wearables were 18% larger compared to the month prior; based on 2017 data, these conversations are expected to increase 10x before the holiday season ends. People on Twitter said they were more likely to purchase a wearable online (55%) than in stores (45%). And 23% of people on Twitter are likely to buy wearables as gifts this holiday season.
Consumer tech is hugely popular on Twitter, with 910k Tweets per day. Televisions and laptops are the most discussed items this holiday season.

Percent of Consumer Tech Tweets by topic of conversation.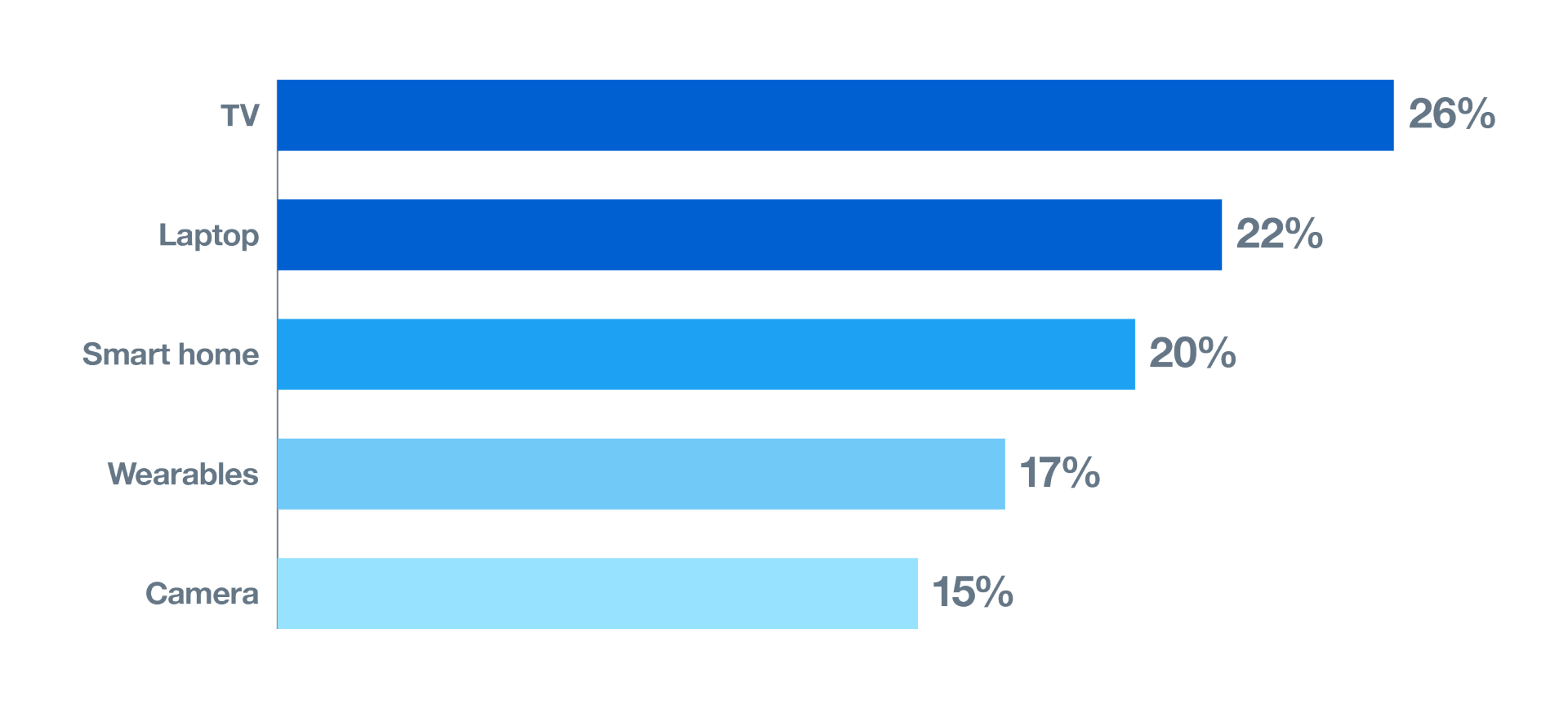 Tracking the tech holiday conversation on Twitter
People on Twitter are looking for a good sale. The conversation related to Black Friday and Cyber Monday sales on consumer technology products has recently started to gain momentum, with a 3x increase in Tweets since mid-November. The conversation is mostly among men over 35 years old who are discussing product recommendations, discounts, and price predictions. While joy is the primary feeling, there are some users who have raised concerns over the poor quality of products that can be found during Black Friday and Cyber Monday sales.
The tech community on Twitter is influential. People on Twitter influence the purchases of family and friends. They say they are 83% more likely to offer advice to friends and family about holiday gifts and 49% more likely to spend a lot of time researching gifts, compared to people not on Twitter.11  And people on Twitter are 60% more likely to report acting on holiday content compared to non-users. Specifically, they say they are 135% more likely to research brands they've seen mentioned on Twitter, 103% more likely to tell their family and friends about what they've seen on Twitter, 86% more likely to visit the brand's website they've seen on Twitter, and 29% more likely to research the products they've seen mentioned on Twitter.12
A tech trend on the rise: AI security cameras. Another major trend is AI-enabled cameras. The conversation is driven predominantly by men over 35 years old, who are discussing the various AI-enabled cameras on the market. Now that many cameras are equipped with advanced deep learning technology, they can recognize common objects and unfamiliar faces over time and alert users when a dangerous event may occur. As the conversation continues, there's a chance these cameras could become a major seller in 2019 and beyond.
What does this mean for marketers?
 
When it comes to tech, Twitter is home to a leaned-in, highly influential audience. They're often the first to try new tech products and they love to share their opinions with family and friends. They come to Twitter for a variety of reasons: to research brands, to find reviews, and to look for deals. While they're browsing their timeline, they're actively engaging with the tech conversation, which means they're more receptive to messages from brands. And with so much of our audience showing an intent to buy this holiday season, there's never been a better time to find a place for your tech brand on Twitter.
Crimson Hexagon. Data is pulled from Sept 29, 2018 – Nov 20, 2018. All data is from public Tweets and posts only. Analysis is based on English language Tweets in USA.

Footnotes:
1 Twitter-commissioned study: Kantar TNS Twitter Consumer Deep Dive Survey, November 2017
2 YouGov Profiles, Sep 29, 2018 – Oct 29, 2018, retrieved Q4 2018
3 YouGov Profiles, Sep 29, 2018 – Oct 29, 2018, retrieved Q4 2018
4 YouGov Profiles, Sep 29, 2018 – Oct 29, 2018, retrieved Q4 2018
5 YouGov Profiles, Sep 29, 2018 – Oct 29, 2018, retrieved Q4 2018
6 YouGov Profiles, Sep 29, 2018 – Oct 29, 2018, retrieved Q4 2018
7 Twitter commissioned study: Crimson Hexagon, Consumer Trends: Wearables, based on public Tweets from Oct 4 - Nov 4, 2018, USA
8 YouGov Profiles, Sep 29, 2018 – Oct 29, 2018, retrieved Q4 2018
9 YouGov Profiles, Sep 29, 2018 – Oct 29, 2018, retrieved Q4 2018
10 YouGov Profiles, Sep 29, 2018 – Oct 29, 2018, retrieved Q4 2018
11 Twitter-commissioned study: Twitter Insiders, 2018 Holiday Study, November 2018
12 Twitter-commissioned study: Twitter Insiders, 2018 Holiday Study, November 2018