Insights
It's a new game on #NFLTwitter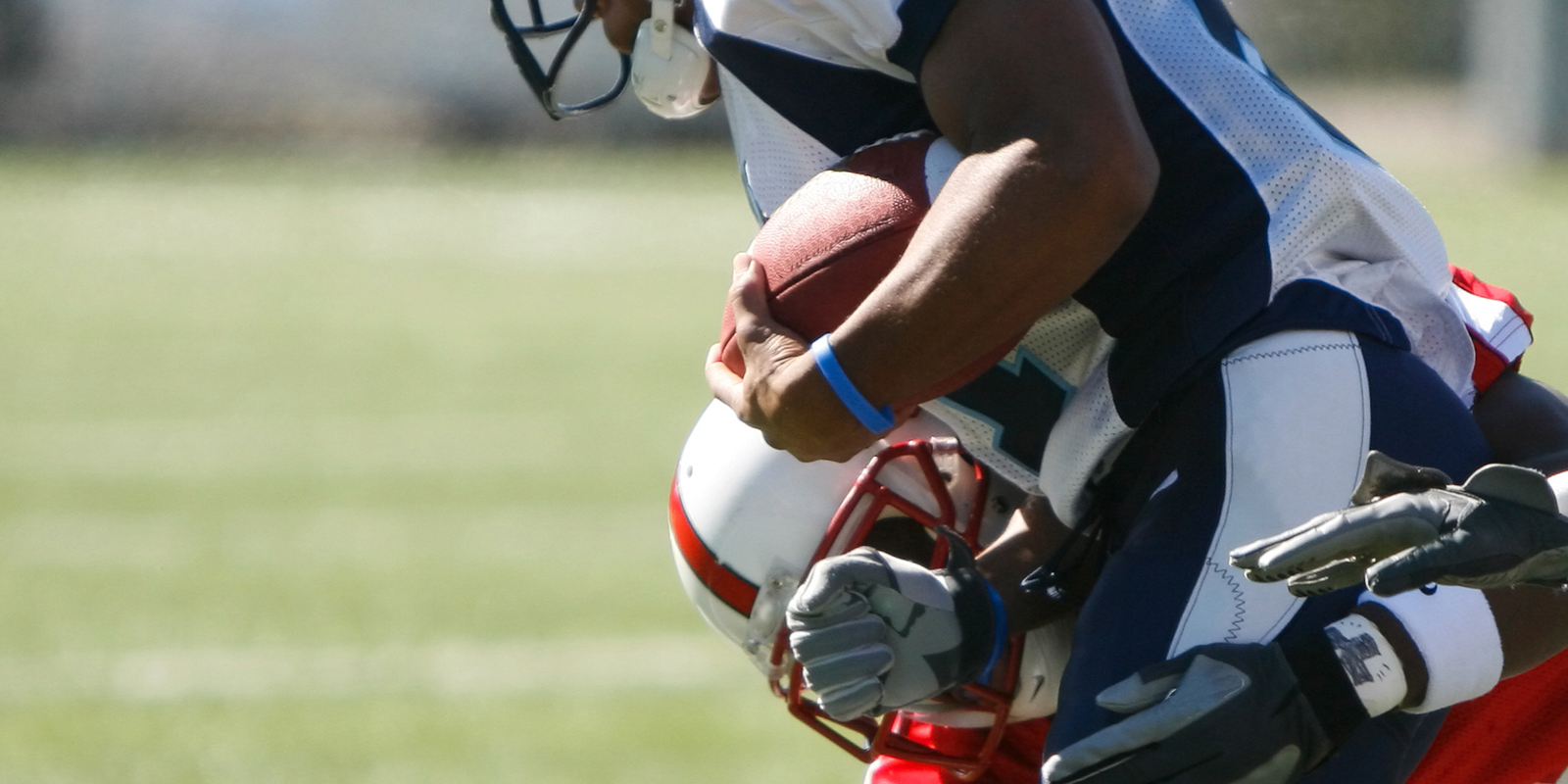 According to a recent study, Twitter is more of a game-day essential for football fans than ever before.
Sports are back — and the fans are ready. 
And according to our recent study, no one is more ready than football fans. While #NFLTwitter has always been a fan hotspot, this season changed the game. In fact, 77% of NFL fans feel that being a part of the conversation on Twitter is even more important now.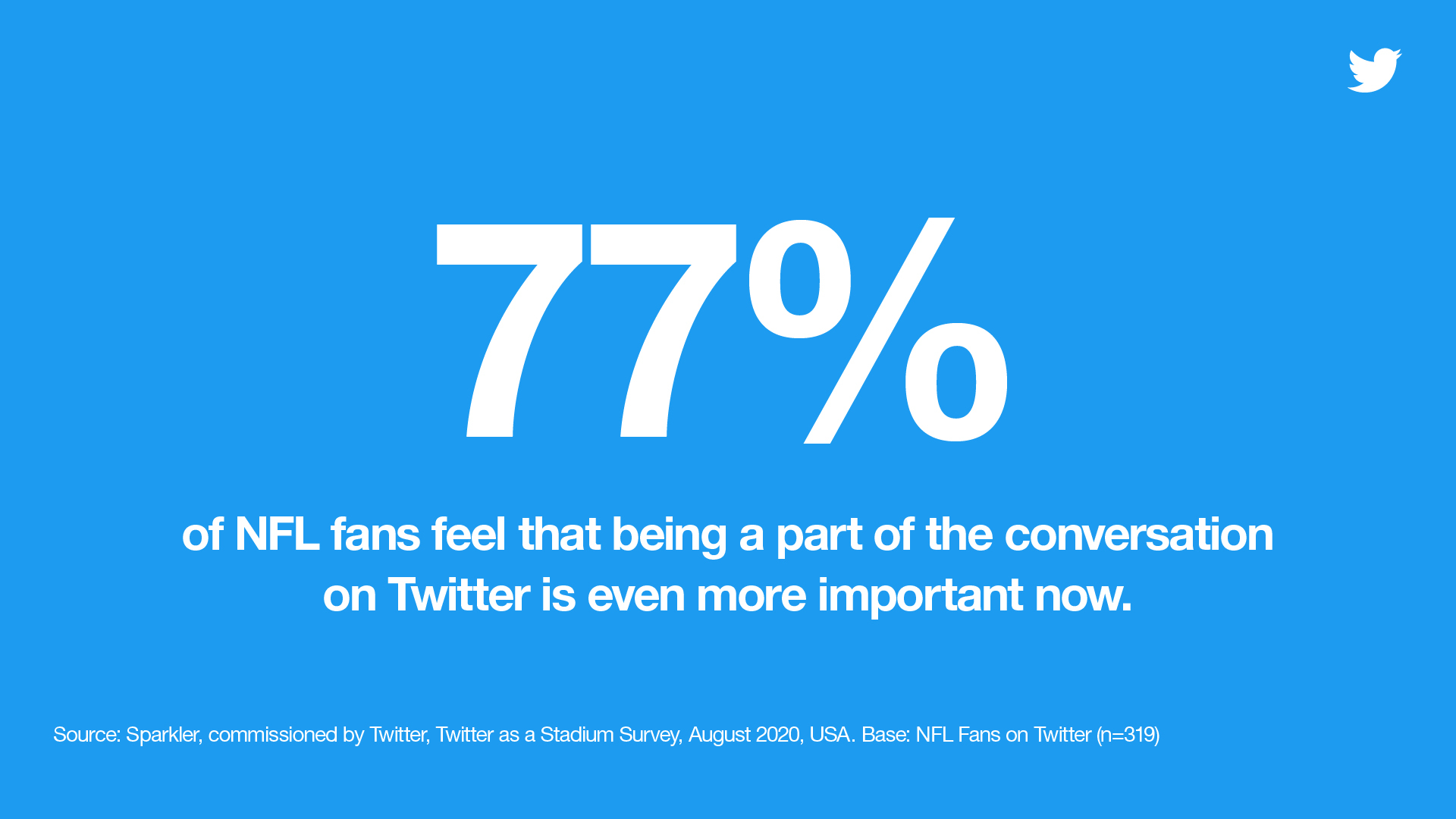 How people watch sports has changed during lockdown, but fall's football frenzy hasn't gone away, it's just amplified online. While the stadiums might be quiet, Twitter surely isn't, making it the perfect place for brands to connect with the football conversation. Here's why:
If it's happening in football, they're talking about it on Twitter.
Fans have always turned to Twitter to boost the TV-watching experience and feel closer to the field — this behavior has only gotten more prevalent as people are getting back in the game and looking to share the experience with others. In fact, 68% of NFL fans surveyed plan to use Twitter more while watching the NFL on TV.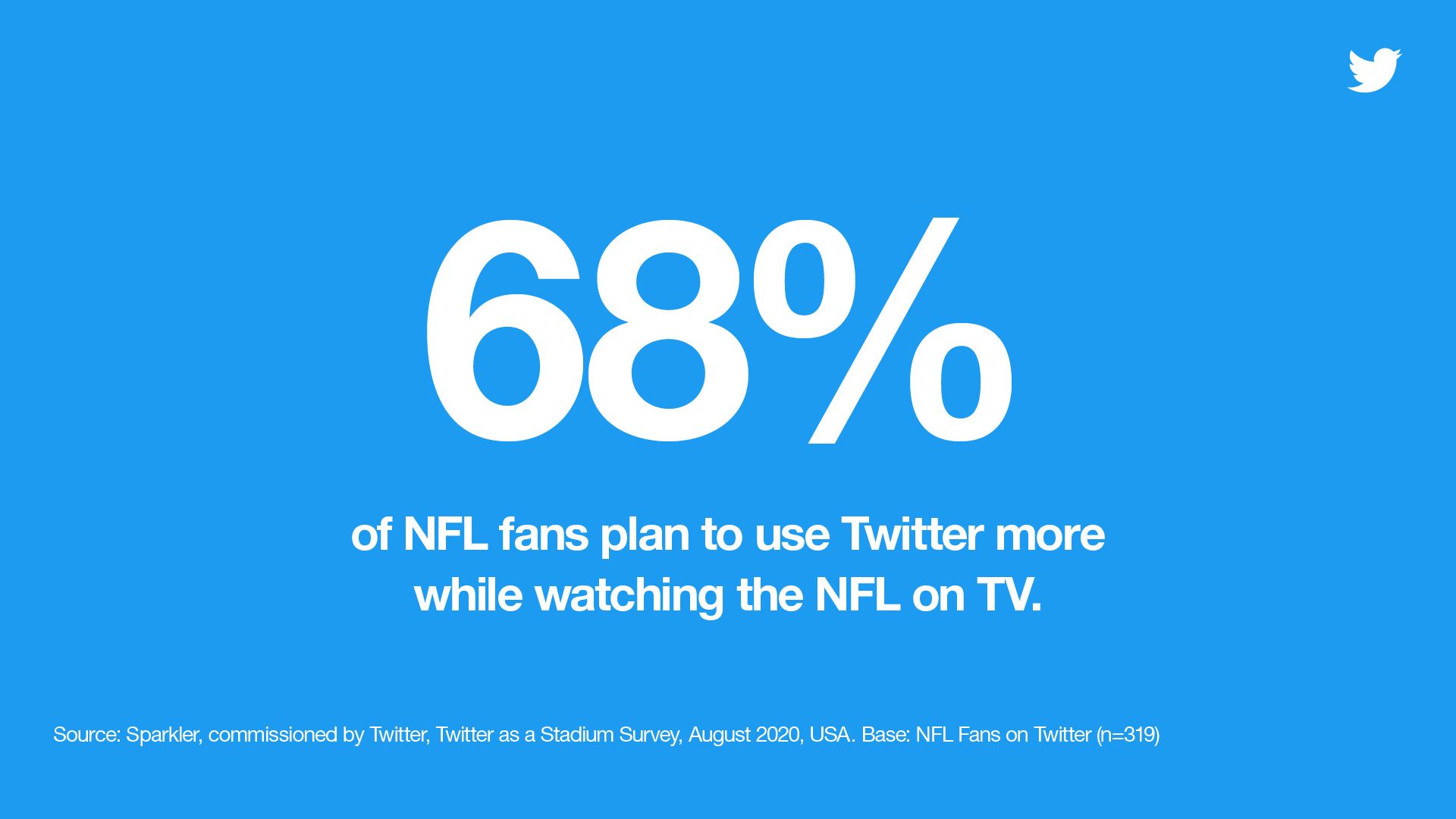 Recreating the stadium experience on Twitter...
With no packed stands or crowded sports bars, people are looking for ways to experience watching the game with other fans. To connect with others about their favorite teams or a game's toughest calls, people are turning to Twitter to replace the fan experience. According to our study, 81% of NFL fans on Twitter agree that Twitter helps make up for some of what they're missing by not being able to be in the stadium or watch the game with friends or family.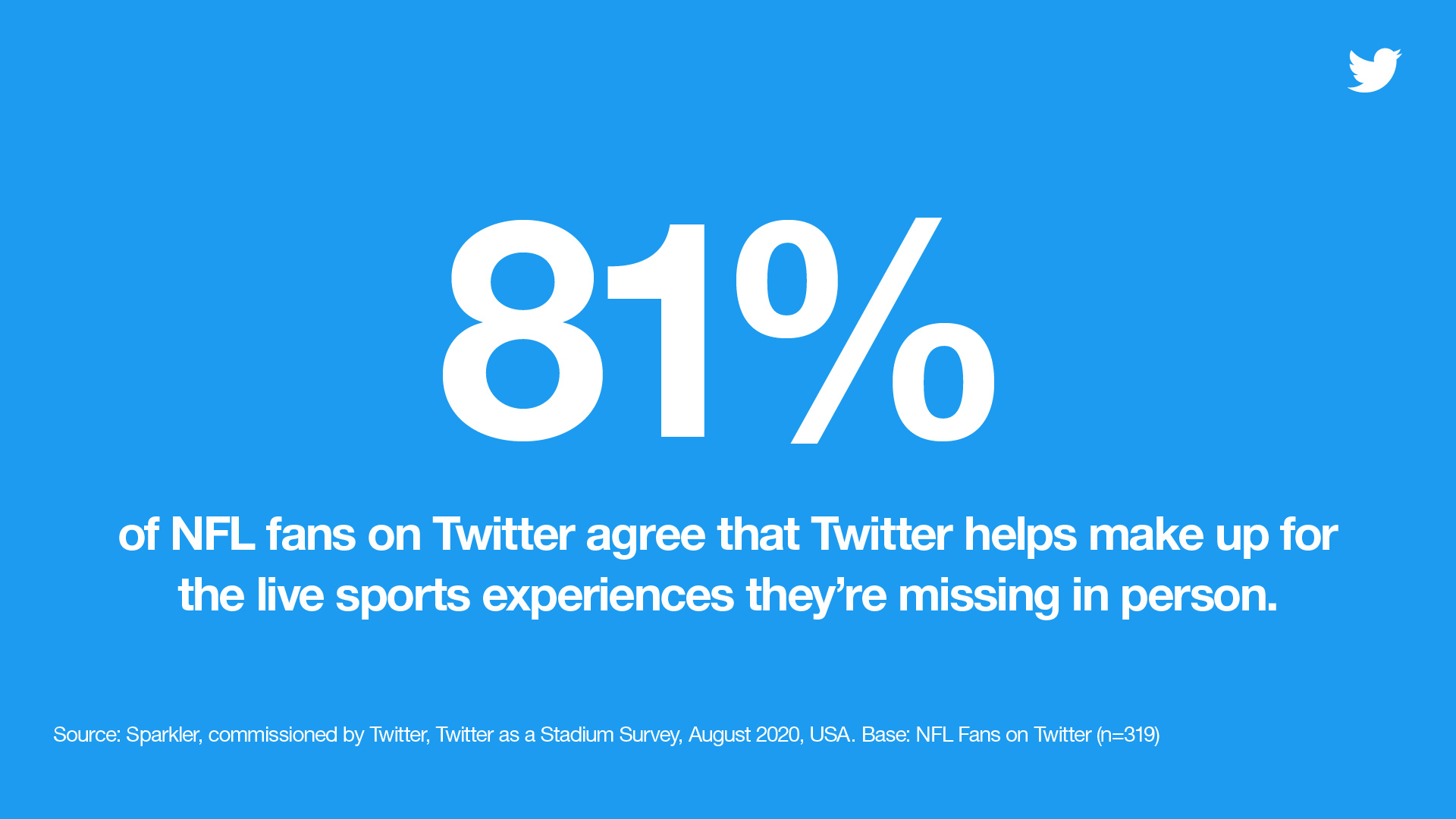 Fans are turning to Twitter to celebrate the return of football and recreate the excitement of being in the stadium. Brands should get involved, too. According to our survey, 83% of NFL fans agree that brands should help connect football lovers while they can't watch the game in a stadium or out with friends and family.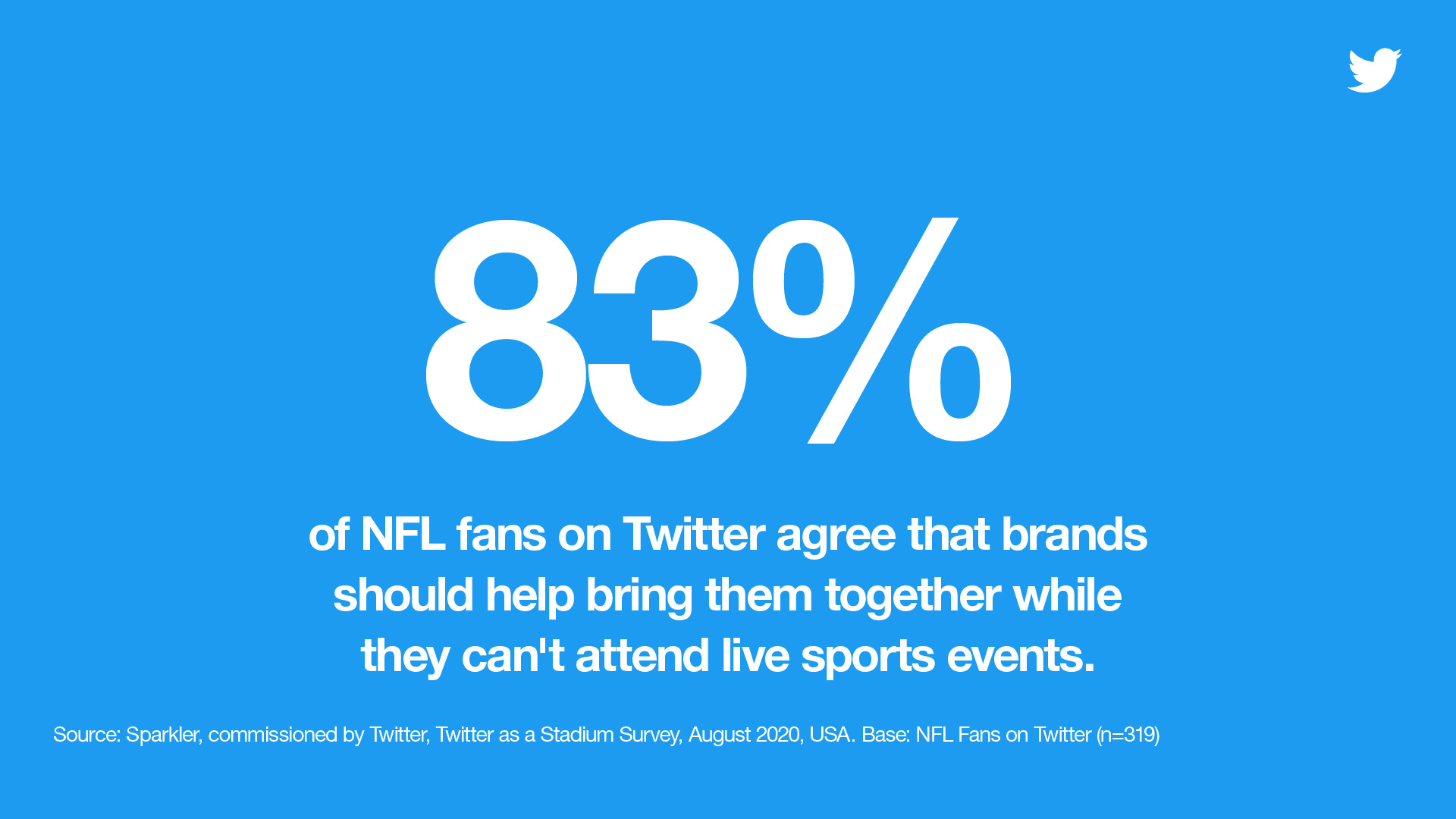 By helping to enhance the live fan experience on Twitter, brands can connect with fans who are making the best of the unusual season.
Though this NFL season may look a little different, fans are more excited than ever to welcome back their favorite teams and athletes — and they want brands to participate too. Brands have the opportunity to connect with passionate football fans like never before, so it's the perfect time for everyone to get back in the action. 
Hilary Pollack is a research manager on Twitter's Marketing Insights & Analytics team. Follow her on Twitter @hpollack. 
Dina Peck is a research analyst on Twitter's Marketing Insights & Analytics team. Follow her on Twitter @dinapeck55.
Source:
Sparkler, commissioned by Twitter, Twitter as a Stadium Survey, August 2020, USA. Base: NFL Fans on Twitter (n=319)