Perspective
Maximizing the impact of conversation on Twitter

Three ways to make the conversation on Twitter work for your brand 
We like to think of the conversations on Twitter as a litmus test, a barometer, or even a live, real-time focus group on what people care about. 
You don't have to take our word for it: According to research conducted in 2019 in partnership with Neustar, Nielsen, and Pulsar, whether you're a brand launching a new product or participating in a cultural discussion, conversation focused on your brand is directly linked to business outcomes across the funnel, from awareness to sales.1
It can also make your brand's paid media dollars work harder. The conversation on Twitter can help create compounding earned impressions, and investing your ad dollars on conversational social channels like Twitter — where our research shows that, on average, paid media can drive a 131% incremental conversation lift — can have a direct positive impact on the volume of mentions and retweets happening around your brand. 2
Of course, just being present isn't the best way to contribute to a conversation. So we've outlined a few techniques to help optimize your brand's creative output and media strategy and create more valuable and impactful conversations. 
Let your creative do the talking
And make sure it also sparks conversation. Here's how: 
First, simplify your asks. When you're asking people to join the conversation around your campaign, make sure that what you're asking them to do is simple while still being effective for the campaign. Help consumers respond to your campaign by creating an experience that tells them why they should care and shows them how they can participate. 
Next, provide an incentive. Conversations are a two-way street, so you should make it clear that what you're offering is valuable. Whether you're giving them early access to exclusive content or a chance to interact with a favorite celeb, consumers are sure to engage in return.
Here's another tip: Don't be afraid to join forces with influencers. Collaborating with Creators and influential people on Twitter helps encourage organic participation. 
Tailor your media products to the desired outcomes
Using the right media mix of products at the right time in your campaign can get more people talking about your brand. 
For example, notification products can help personalize your outreach, making consumers feel like you're talking directly to them. In a recent campaign to promote the final season of the hit series, Shameless, Showtime used a suite of products — including Branded Notifications — to help fuel buzz and build anticipation for the show's return. The campaign generated a 276% incremental lift in Tweet volume and a 65% lift in people talking about the campaign.3
On the other hand, broadly targeted ad placements, like Twitter Timeline Takeover and Trend Takeover, help amplify the conversation during peak campaign moments. Our internal data shows that using these products fuel a 1.8x higher lift in Tweet volume and 1.6x higher lift in the number of authors tweeting about a campaign vs. those campaigns that don't.4
Finally, people on Twitter should find participation in your campaign easy and fun. Use engagement-focused ad features to provide simple, easy, and authentic opportunities for fans to participate in your campaign. 

Don't leave a conversation that's just getting started
Perhaps most importantly, when it comes to ad campaigns, timing is everything. That goes for length of time, too.

We've seen on Twitter that longer campaign flights lead to more efficient CPMs, and campaigns longer than eight weeks show a 3.6x greater efficiency than campaigns that last less than one week.  And it makes sense! On conversation-driven platforms like Twitter — where paid media generates compounding impressions through Retweets, Replies, Quote Tweets, and more — brands can maximize the effect of that earned media by flighting longer campaigns.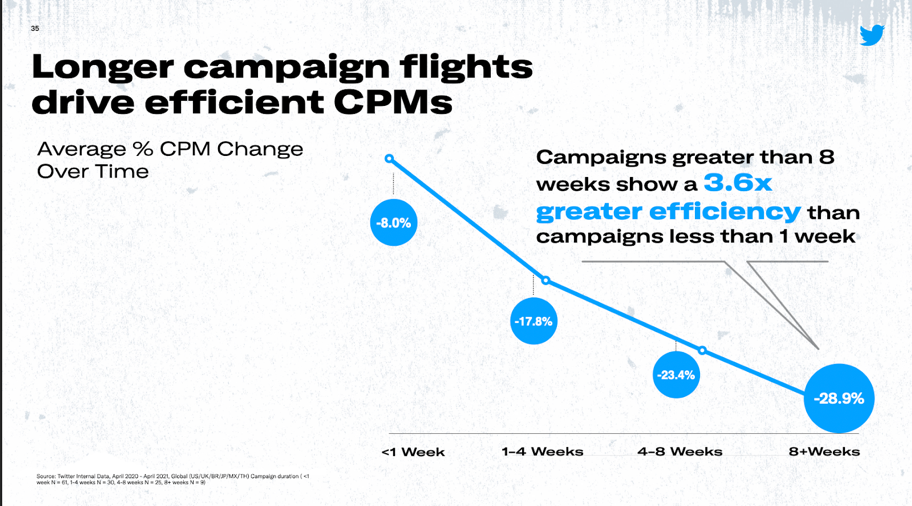 Conversation on Twitter can be  a powerful driver of brand success. Marketers who optimize the right mix of creative assets, media products, and flight time can maximize user engagement and make their media dollars work harder for them. 
When you're planning your next campaign, go to the platform where conversation comes naturally — Twitter. 
Sources
1: Twitter Meta Analysis: Measuring the impact of Earned Conversation, Neustar MMM (2019), US.
2: Twitter Internal Data, April 2020 - April 2021, Global (US/UK/BR/JP/MX/TH) ( N = 125)
3: Twitter Internal Data, November - December 2020, US
4: Twitter Internal Data, April 2020 - April 2021, Global (US/UK/BR/JP/MX/TH) (TKO N = 89, Non TKO N = 36)
5: Twitter Internal Data, April 2020 - April 2021, Global (US/UK/BR/JP/MX/TH) Campaign duration ( <1 week N = 61, 1-4 weeks N = 30, 4-8 weeks N = 25, 8+ weeks N = 9)