Research
Love at First View — owning the timeline and the moment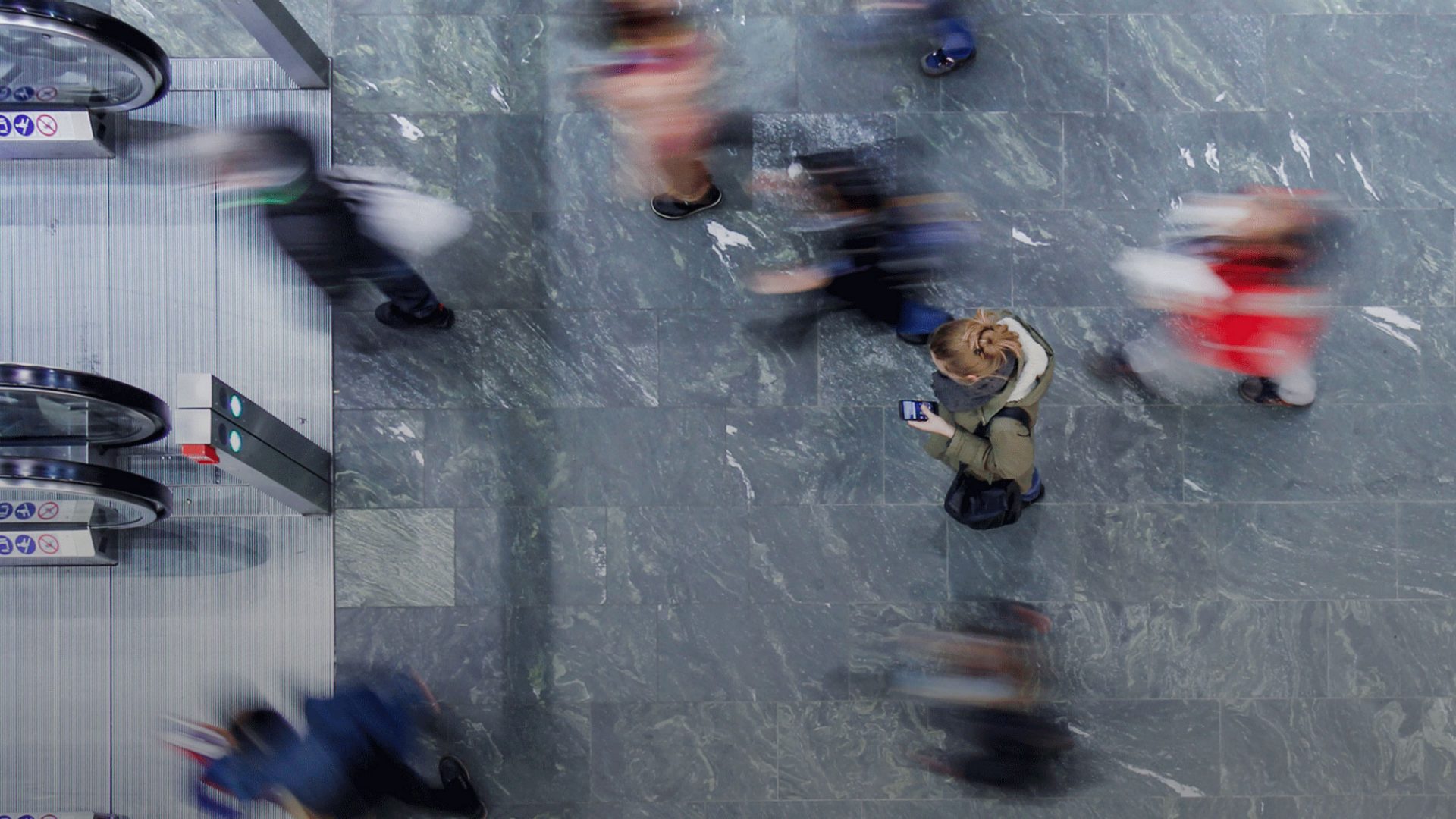 A year in review: how brands own the top of the timeline with First View.  
In our media-saturated culture, how do you get in front of a huge target audience — at precisely the right moment? Whether you're launching a new product, kicking off a new campaign, promoting a new movie or TV show, or telling a brand story, you want to own that moment.
That's the idea behind First View. Introduced one year ago, First View gives brands exclusive ownership of Twitter's most valuable real estate — the top ad slot — for 24 hours, using the most popular form of content today, video. First View's exclusive placement enables brands to achieve "Love at First View," getting attention at the top of the timeline when users are at their most receptive.
Most of all, First View enables brands to be a part of what's happening right now in a high-impact way. Brands such as Jaguar USA have combined First View videos with Promoted Trends to deepen engagement and drive conversations.
A "Love at First View" moment drives positive sentiment, purchase intent, and brand and campaign awareness, our research shows. For example, a First View video in the Twitter timeline generates a 22% uplift on average across all brand metrics, versus videos experienced deeper in the timeline.
To celebrate First View's first anniversary, we're sharing insights and best practices for leveraging Twitter's top ad slot in your next campaign.
A 'Love at First View' moment drives positive sentiment, purchase intent, and brand and campaign awareness, our research shows.
Video commands attention in a competitive, crowded marketplace.
With so much content competing for consumers' attention, First View helps brands break through with immersive creative video at the top of the Twitter timeline. Memory response is highest in the first 30 seconds of a Twitter session, and users are more likely to connect emotionally to content early on, according to Twitter research.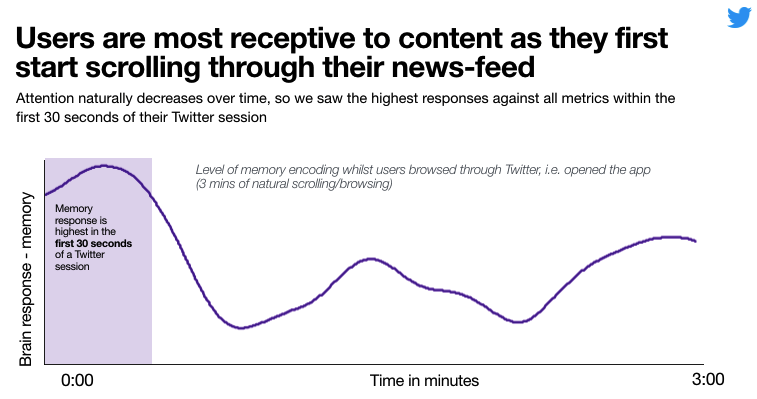 We've also found that the first videos people see on Twitter generate the strongest responses, compared to videos and other content experienced later in the timeline.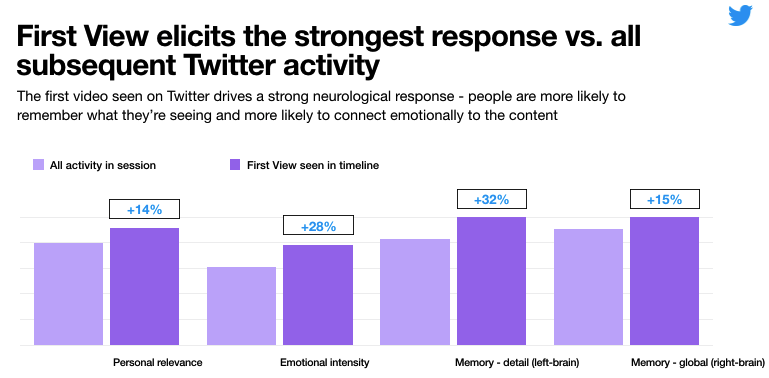 Video is by far the most popular form of content today. It's expected to be the fastest-growing content type on mobile and desktop through at least 2020, when it will account for more than 80% of all consumer internet traffic. And, video Tweets are six times more likely to be shared than image Tweets, according to our research.3
First View has helped brands across a variety of verticals quickly achieve scale with compelling video creative. On average, First View can increase Tweet recall by more than 141%; campaign awareness by +58%; message association, +29%; brand awareness, +18%; and purchase intent, +13% (based on Twitter research)⁴.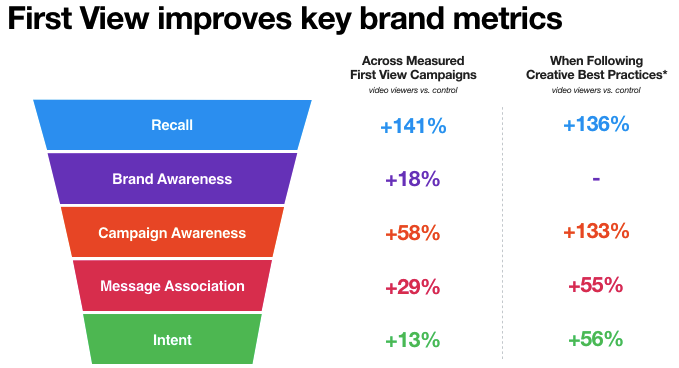 How brands are leveraging First View to own their moment:
From autos to film and tech markets, First View has been a part of a variety of campaigns this past year.
@Moto_USA sought an innovative way to showcase its one-of-a-kind Moto Z smartphone and demo how easy it is to add premium features with snap-on modules. So Motorola used First View, Promoted Trend, and a custom finger snap emoji to spread the word, which "allowed us unparalleled reach for our brand, as well as a great way to extend our brand message at scale," said Beth Reilly, head of Motorola's global media and consumer engagement. The brand achieved a 3X lift in follows, 19X lift in daily average mentions, and 87.5M brand impressions.
To rapidly build widespread awareness of its new luxury vehicles XE and F-PACE, @JaguarUSA created its #UnleashTheCats Promoted Trend and First View campaign. The campaign achieved a view rate 22% higher than the automotive average, garnered 4.5M video views, delivered a 36% increase in positive brand sentiment, and bumped up brand favorability by 12%. The use of Jaguar's vehicle configuration program increased 2X as a result of the campaign, too.
"We were thrilled to use First View to garner awareness for the new generation of Jaguar," said Kim Kyaw, manager of digital, social, and CRM for Jaguar Land Rover. "This was an effective way for us to share our video creative across a wide audience for the launch of our new XE & F-PACE vehicles."

@UniversalPics chose First View to heighten anticipation for its tentpole summer blockbuster "Jason Bourne," starring Matt Damon.
"We used First View when we launched the trailer for our movie 'Jason Bourne,'" said Doug Neil, EVP of digital marketing, Universal Pictures. "It helped us to reach a wide audience on Twitter to maximize exposure for the film."

@NewBalanceUK leveraged First View to launch the brand's #IAmTheCompetition campaign, with a theme of "you are your toughest opponent" and encouraging followers to "get your head right and your body will follow."
"First View offered us an unparalleled opportunity to launch our new campaign and reach a large, engaged community who were the perfect fit for our brand," said Samantha Matthews, marketing manager UK, Ireland for New Balance Athletics Shoes UK Ltd.

@Wendys leveraged First View to build wider awareness of its "4 for $4" campaign, which lets consumers choose four qualifying menu items for $4.
"Having Wendy's at the top of people's feeds is a huge benefit," said Brandon Rhoten, VP of advertising, media, and digital at The Wendy's Company. "That makes First View video a perfect fit, pushing brand mentions for our 4 for $4 meal."
For tips and advice on using First View for your next campaign, read part two: 3 ways to own the moment and achieve "Love at First View."