Insights
Lean into the women's
sports conversation on
Twitter to level up your
marketing strategy

Here's how brands can get off the sidelines and support female athletes. 
Despite challenges facing contemporary female athletes — pay discrepancies, fewer sponsorships, and less air time1— the rate of change in women's sports is one of the most exciting trends in the industry right now. The interest and pace of conversation surrounding women's sports on Twitter is reaching new heights: Over the last year alone, there's been a 30% increase in conversation about women's leagues.2
For brands, this is a major opportunity. By partnering with sports teams and athletes, brands can change the course of sports for everyone. And now is the perfect time to get in the game. 
Ready to reevaluate your sports marketing strategy? Keep the following three things in mind.
Focus on the fans. 
First things first, think about what your audience really wants to see. 
Too often, brands will target women with emotionally charged messaging versus focusing on athletic achievement and talent. At this point, the trope is not just overused, but it's also ineffective. These kinds of sports ads take away the real, raw power of an athlete while limiting the number of people who might identify with her. 
We have the data to back that up. According to our research, female-focused sports ads are perceived as 148% more empowering than sports ads with men. And when the ad stars a female athlete as opposed to a male, it even increases the likelihood that a man will buy the product.3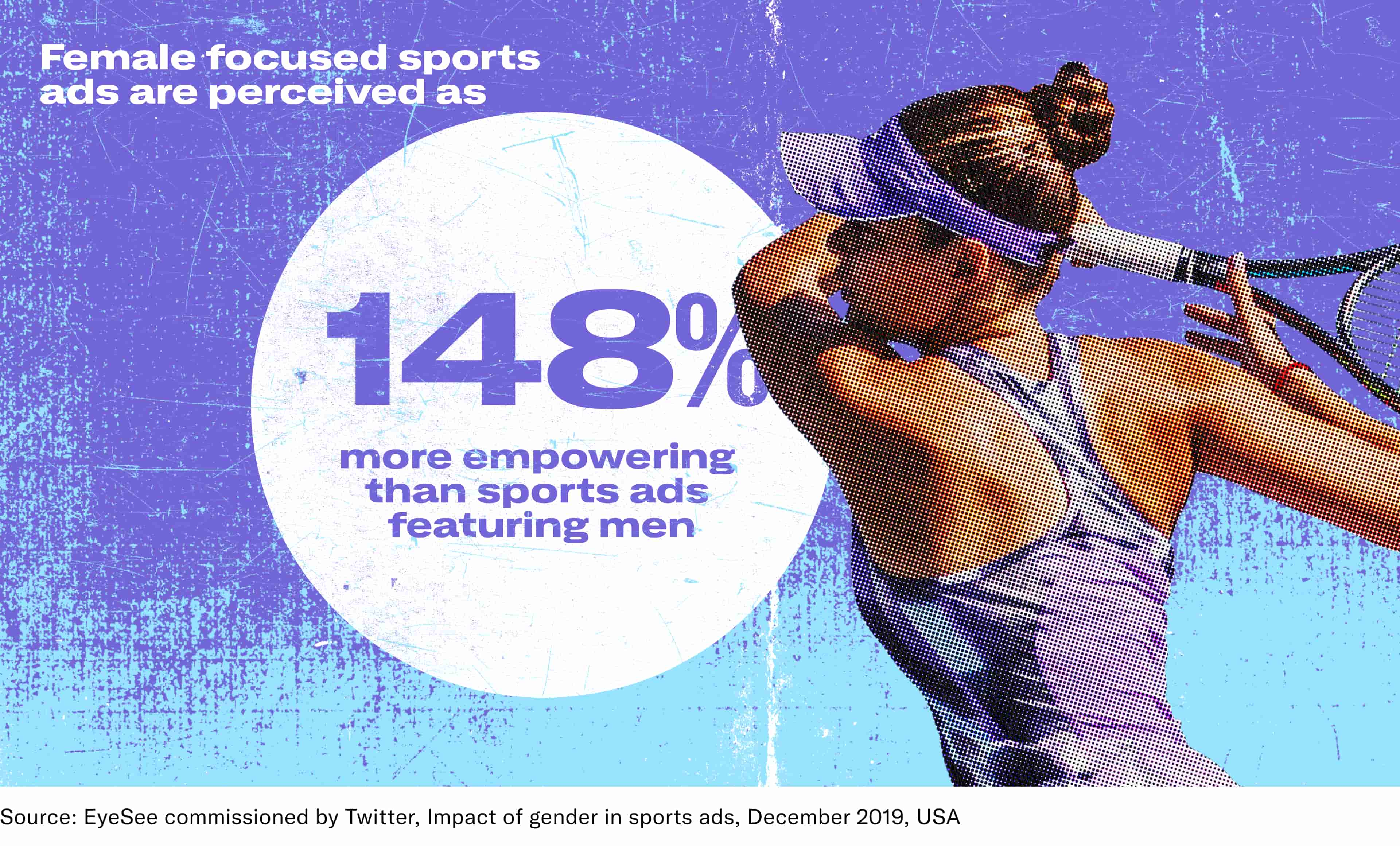 Here's an example of Nike getting it right. The brand celebrated the future of sports and the next generation of athletes with its "Play New" campaign by highlighting sports power as a whole and sharing a glimpse of world-class athletes of the future, male and female alike. 
Move on from traditional media.
Even as women start to claim a larger share of the TV broadcast audience, there's still a serious lack of media exposure regarding women's sports. This discrepancy between men's and women's sports means that female teams have gotten a lot more creative to get their voices heard. 
Social media can offer a female athlete the opportunity to circumvent traditional media and grow her presence online in a different way. Brands looking to connect with a passionate fan base should look no further than this new group of social media influencers. 
For example, the WNBA has embraced social media more enthusiastically than almost any other pro league. WNBA players use Twitter to engage with their fans and the league partners to share must-see moments and never-before-seen content all year round. 
Take this custom hoodie campaign, for starters. Twitter partnered with the WNBA to co-create a hoodie that included a "hidden" QR code that gave the #WNBA community a direct line for conversation about the game and causes they stand for. Plus, #WNBATwitterLive — a live stream of games exclusively on Twitter — helps both dedicated fans and basketball newbies catch the live game action. 
Using multiple platforms, women's leagues are creating inclusive communities to engage with fans and discover new audiences. This innovative, diverse content distribution strategy provides an opportunity for brands to connect with a dedicated sports fan base and vibrant online culture.
Don't be afraid to get involved. 
Sports are all about talent, competition, and athleticism. But if there's one thing that lives at the heart of women's sports, it's activism.
Over the last few years, in tandem with America's multiple social awakenings, the WNBA has set a standard that has made sports more powerful on the national stage. And it's attracting new fans along the way — in fact, TV ratings from this year's opening weekend were up 25% from last season.4 Plus, there's a viewership trend we're seeing on Twitter, too. Since 2019, there's been an 863% increase in video views related to WNBA content on Twitter.5
So what does this mean for brands? Almost half of consumers think brands can be culturally relevant by getting involved in social issues and movements.6  The takeaway for marketers is this: People value brands who participate in the conversation around those pivotal moments. Brands should be running to, not from, the cultural conversations happening even if it's new territory for them.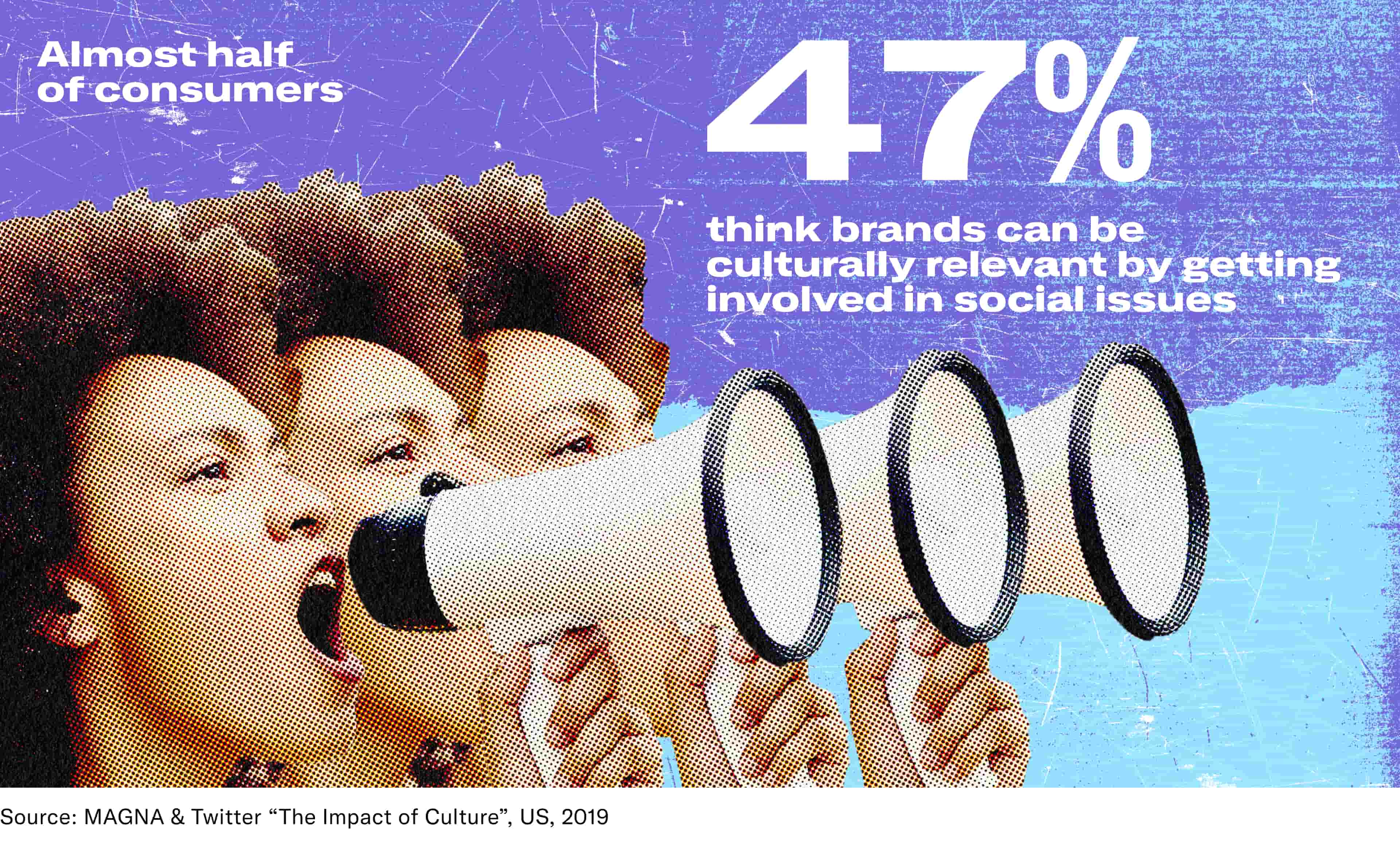 When young tennis champ @naomiosaka decided to withdraw from the French Open to prioritize her mental health, she turned to Twitter to thank fans and tell her side of the story. Osaka received an outpouring of support from fans, media, and fellow athletes who shared messages of similar feelings.  
Calm, the meditation app, seamlessly joined the conversation by announcing it would pay the fine for Osaka and any other players opting out of Grand Slam media appearances for mental health reasons. Plus, the brand agreed to match the fine with a donation to @LaureusSport, an organization dedicated to transforming the lives of young people through the power of sport. 
Instances like this give brands the opportunity to meaningfully connect with the moment and show up for the sports community even when it may not be popular to do so. When brands have a strong track record of advocating for causes like gender equality and mental health, they can tap into an athlete's push for change — and people pay attention. 
When it comes to sports, it's time to rethink your media strategy. What might have worked well one or two decades ago is simply no longer relevant today. To have the greatest impact, brands should work toward a collaborative, creative approach that highlights authentic content distributed on digital platforms. And if you leave women out of this strategy, you're going to miss the mark: Women have a 41% stronger preference for social media than men.7 
This is a pivotal moment for women's sports. Brands that get involved in the conversation now have the opportunity to drive long-term change. But you can't just drop into a sport and run — you need to be authentic and actually advocate for female athletics and athletes. If you don't mean it, fans will figure it out. Fast.
Sources
1: USC/Purdue University study, One and Done: The Long Eclipse of Women's Televised Sports, 1989–2019. First Published March 24, 2021.
2: Twitter internal data (Semantic Core). US only. Dates: 6/1/19-6/1/20 vs. 6/1/20-6/1/21. RTs excluded. Retrieved June 2021
3: EyeSee commissioned by Twitter, Impact of gender in sports ads, December 2019, USA
4: https://justwomenssports.com/wnba-kicks-off-25th-season-with-a-ratings-boost/
5. Tubular Labs, Search Terms: "WNBA", US Brands & Media Publishers only, 2019-2020. 
6. MAGNA & Twitter "The Impact of Culture," US, 2019 | article here
7. Deloitte, Engaging sports fans year-round, 2020