Insights
How to connect with the Hispanic auto-buying market on Twitter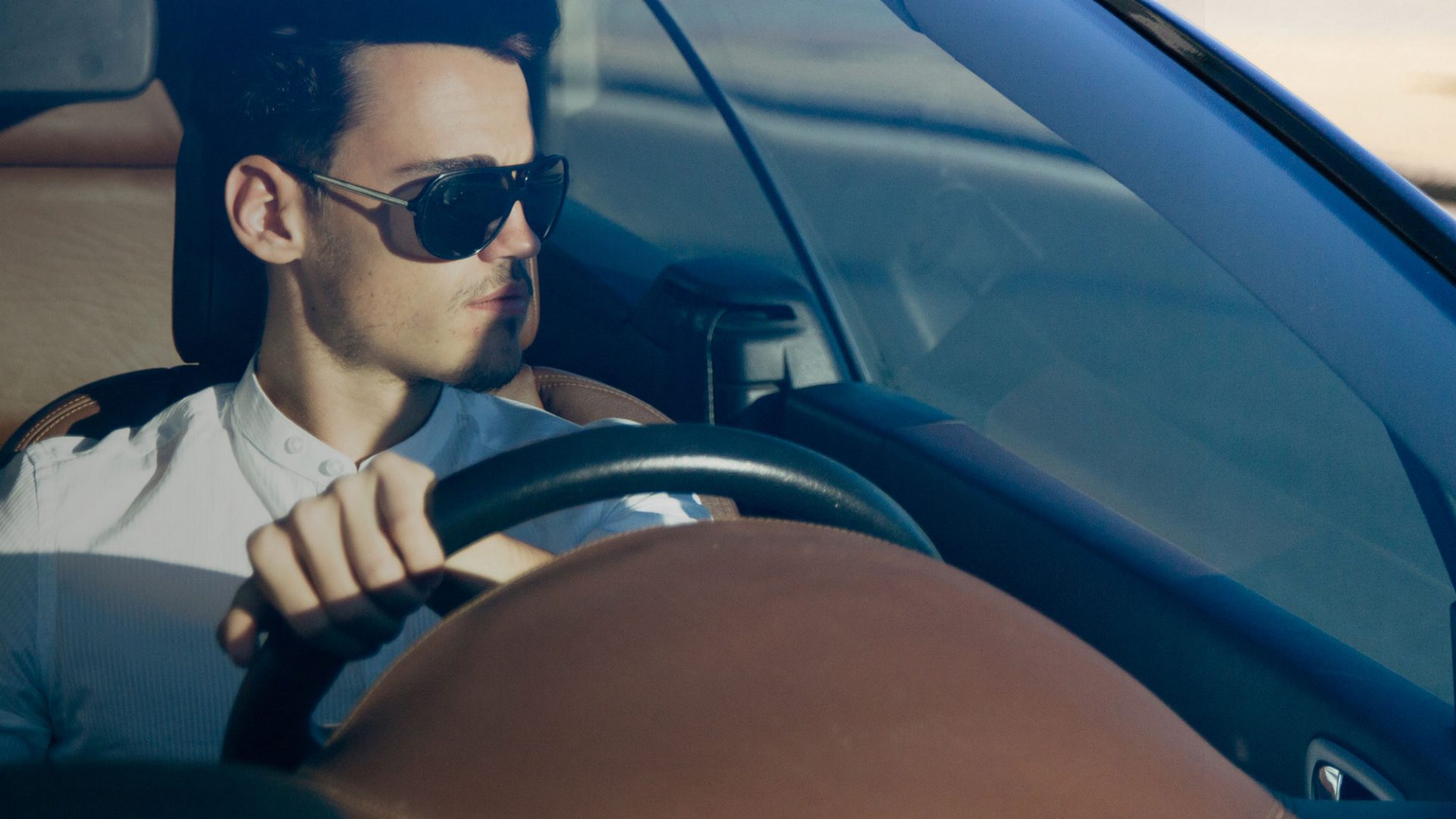 With 49% of US Hispanic auto buyers on Twitter*, they represent a prime way auto brands can grow.
According to auto industry experts, Hispanic market growth is outpacing the overall market three to one2, making it an ideal market to reach. Numbering 54 million in the US, Hispanics are young and employed, with growing families.3 Hispanics buy more frequently than overall auto consumers3, and are often in the market for more than one car at a time.3
Hispanic auto consumers are also ahead of the curve when it comes to using technology and social media for auto purchases. They are more likely to use social media and rely on mobile to inform their vehicle decision compared with the overall market. In fact, over one-third of the overall Hispanic population in the US said Twitter made them aware of specific brands/models.3

But awareness of this giant audience and its purchasing patterns is just a starting point. It's not enough to simply localize your existing content — anyone can do that. To stand out and capture this market's attention, auto marketers must connect authentically with this affluent, tech-savvy group. Read on for the research and our recommendations for reaching this valuable audience.

When a brand understands my culture it means they respect me as a person and where I come from, and the stories of what I have been through. It means they understand there are different traditions I may value and that they can relate to them.
1.  Bilingual Hispanics are mobile-centric buyers and fast to purchase.
An overwhelming majority of bilingual Hispanic buyers relied on mobile for most of their automotive purchase research. In fact, Hispanic buyers are 1.25X more likely to use a mobile device to search for cars compared with the overall population.3,10

Tip: Make your strategy mobile-centric.
Because bilingual buyers are fastest to purchase3, it's critical that auto brands meet them on their mobile devices. Make your content easy to read and eye-catching for someone scrolling through on their phone.  Make it easy for buyers to get the information they need to consider your brand with native mobile experiences, like automated experiences in Direct Messages.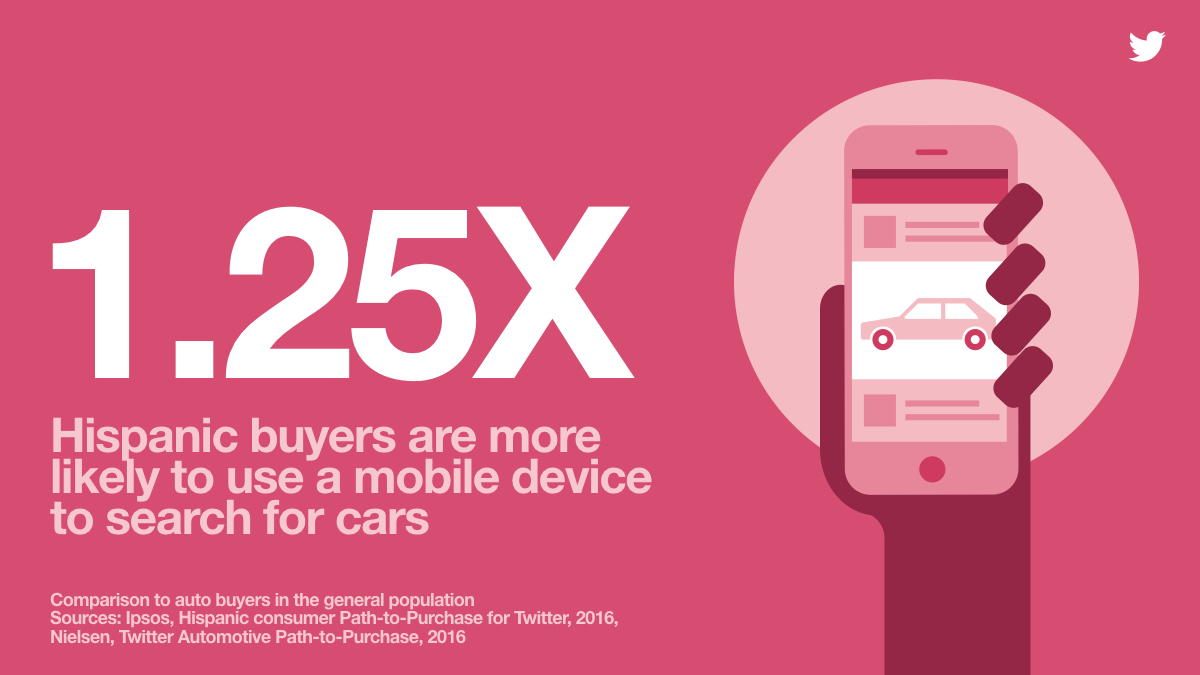 2. Hispanic consumers actively look for and interact with content on Twitter.
Hispanic Twitter users aren't afraid to ask questions. As a demographic group, Hispanics are the most likely to Tweet about auto topics5. Over one-third posted a public comment/Tweet asking questions or for feedback6, or private messaged a brand with a question or requesting information.7

Tip: Make your campaigns interactive.
If there's an audience to drive engagement with, this is it. Use conversational ads — they're a powerful way to extend your brand's presence across Twitter. Conversational ads are exclusive to Twitter and make it even easier for your audience to engage with and then spread your campaign message.

Seventy-nine percent of Hispanics appreciate auto ads more when the ads reflect their culture. This makes them feel more connected to, and understood by, the brand.3 In addition, the culture is family-first: family plays an important role in vehicle choice8 and their family's opinions are very important in the decision.9

Tip: Respect their culture and Tweet their language.
Create content that shows a deep respect for, and understanding of, their points of view, history, traditions, lifestyles, regions, and values. Publish in both English and Spanish to resonate with audiences who prefer their Tweets in English, Spanish, or a mixture of both.3

I appreciate how Toyota has had bilingual ads where a young woman is speaking to her parents in English and Spanish about her new car and boyfriend. It was very relatable to me, as I am bilingual and bicultural. It felt as if finally a top brand respected my culture and languages.
Twitter partnered with Ipsos Connect to recruit participants from an online panel to take a device-agnostic survey with questions regarding their recent new vehicle purchase or lease. There were a total of 800 participants which included 300 who identified as using Twitter on a monthly basis. All participants were adults in the U.S. that identify as Hispanic and had purchased or leased a new vehicle between December, 2015 and December, 2016. The sample was balanced to ensure a distribution of predominantly speaking Spanish, bilingual, and predominantly speaking English to be representative of the U.S. Hispanic population.

Taylor Evans, Sr. Research Analyst, and Rebecca Rosengard, Sr. Marketing Manager, also contributed to this article.

Footnotes:
* ComScore Planmetrix, March 2017
2. NAIAS, January 2017
3. Ipsos — Hispanic consumer Path-to-Purchase for Twitter, 2016, Hispanic General Population n=500, Hispanic Twitter Users n=300
4. C_Space - "Life, Family, & Big Decisions", February 2017
5. Latinum study: Factors that Drive Tweet Engagement for Multicultural Users, Latinum 2017. In comparison to non-Hispanic white, Asian American, and African American Twitter users
6. 38% posted a public comment/Tweet asking for feedback/questions. Ipsos — Hispanic consumer Path-to-Purchase for Twitter, 2016
7. 37% private messaged a brand with a question or requesting information. Ipsos — Hispanic consumer Path-to-Purchase for Twitter, 2016
8. 75% say their family plays an important role in the vehicle they purchase/ lease. C_Space - "Life, Family, & Big Decisions", February 2017, Base: Twitter users
9. 55% of Hispanic Twitter users say the opinions of their family are very important when making a decision on what car to buy. C_Space - "Life, Family, Big Decisions", February 2017, Base: Twitter users
10. Nielsen, Twitter Automotive Path to Purchase, 2016