Insights
Get in the game: College basketball's biggest month

The madness on Twitter is just getting started. Here's why your brand should connect to this major cultural event.
College basketball's busiest month is just around the corner. Are you ready to get in the game?
After a disappointing hiatus in 2020, the tournament is back and more exciting than ever. This year, all of the 63 games will be held in Indianapolis, but the buzz surrounding this major cultural moment is heating up nationwide and all over Twitter.
Why? Twitter has always been a go-to spot for basketball fans to connect and talk about their favorite teams, bracket predictions, and everything in between. In March, hoop talk tops the timeline, so for brands looking to win big during this year's tournament, here's why you should turn to Twitter:
Twitter loves college basketball
Twitter is home to everything college basketball: From buzzer beaters to bracket busters, upsets, and shootouts, fans head to Twitter to talk about it all. In fact, 50% of Americans surveyed on Twitter follow college basketball.1 Come tournament time, the conversation only gets bigger as basketball devotees and casual spectators alike tune in to watch the games.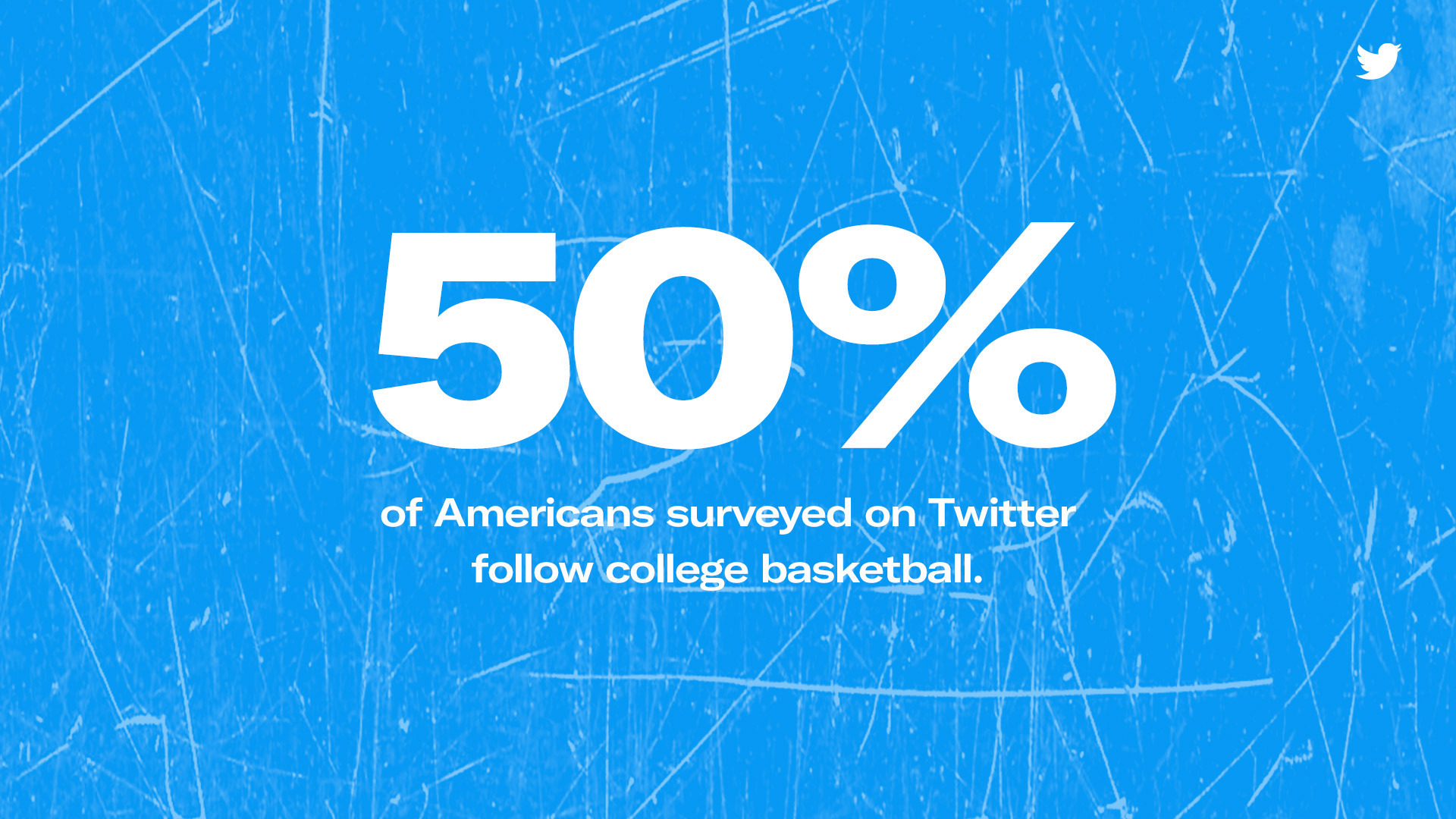 Source: Global Web Index, US, Q3 2018-Q3 2019
And tournament talk will take over the timeline
When the game clock starts, being on Twitter is like being in the stands, with fans sharing predictions and debating the plays and calls. And here's a tip: While the basketball conversation happens year-round, tournament chatter really gets going on Selection Sunday, when team matchups are announced. 
And after the conversation starts picking up speed, it's unstoppable. During the last tournament, Twitter saw 4.15 billion impressions, 78 million Tweets, and 4.4 million authors2 get in on the action.
And if those stats are any indication, this year's conversation will be equally as massive, as fans fine-tune their bracket picks and cheer their favorite teams all the way to the championship game.
The big tournament is always a major cultural moment in the US, made even bigger in 2021 due to last year's cancellation. And during big events like the tournament, people are glued to Twitter. According to a recent study, fans spent 15% more time on Twitter and less time on other platforms during three sporting events across the US and UK.3
Twitter is the roar of the stadium. And with the pent up demand surrounding this year's tournament, the roar is about to get even louder. Don't bench your brand during this major cultural event.
David Herman (@davidbherman) is a member of Twitter's Global Content Partnerships team, focusing on strategic sports partnerships with leagues, networks, teams, and media partners to bring the most premium sports content to the platform and drive sales revenue.
Source:
1. Global Web Index, US, Q3 2018-Q3 2019
2. Twitter Internal, Tweets from March 10, 2019 to April 15, 2019; Retrieved Jan 2020
3. Custom Daypart Analysis, Comscore Media Metrix & Mobile Metrix, Shift in total minutes spent on Twitter vs. other social platforms (Event vs. average of 3 weeks prior during same day of week & airing time): Super Bowl, 2/2/20, USA; NFL Draft, 4/23/20, USA; Premier League, 7/5/20, UK