Insights
6 myths about in-feed video: erased

Learn what does — and doesn't — deliver results with in-feed, autoplay video ads.
With the explosion of social video ad spending, we set out to discover how Twitter's environment of in-feed, autoplay video affected key measures such as ad viewability, impact, recall, and receptivity.
IPG Media Lab conducted a study which revealed that video ads on Twitter drive greater recall and favorability than similarly skippable ads appearing on premium web properties. It also uncovered surprising insights into the consumer mindset, with implications for how brands should allocate video ad budgets to take advantage of the unique opportunity this platform provides.
The social component of digital video is a phenomenon unto itself. And if you think that's overstating things, consider how brands are taking advantage. Annual video ad spend on social is expected to grow significantly over the next four years, surpassing $7 billion in 2019*. Yes, that's billion. To erase some common myths once and for all, Twitter partnered with IPG Media Lab on a research media trial to understand the truth about in-feed video. Let the debunking begin.

Myth #1: In-feed, autoplay video is nothing special.
Truth: It creates a uniquely relevant environment.
Consumers reported that ads were perceived to be more relevant (+10 percentage points higher) when embedded within Twitter's self-curated feed, compared to similarly skippable ads on publisher sites. This relevancy also made those ads feel less jarring. Participants reported that ads in Twitter's feed environment were less intrusive (+8 percentage points). And favorability went up too, by 8 percentage points. Not a bad way to say hello to a consumer.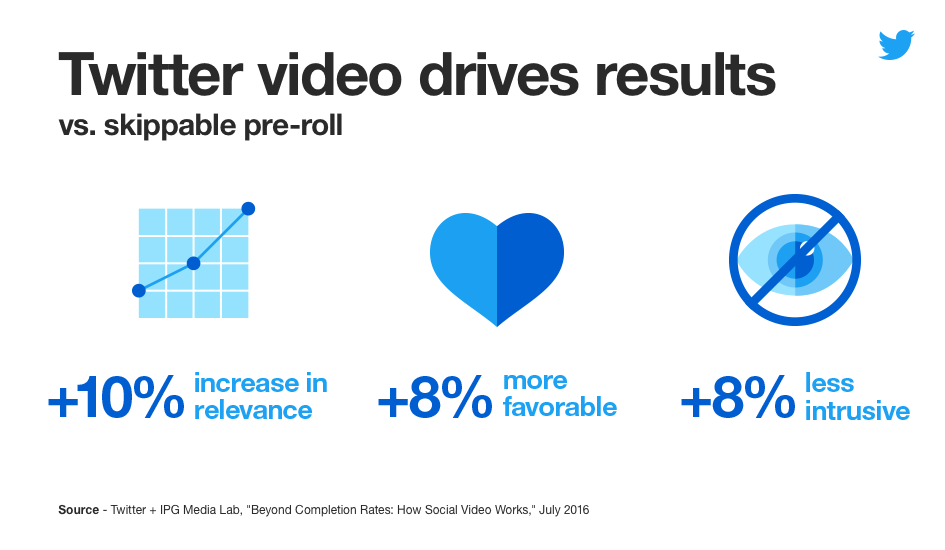 Myth #2: Time spent with ads is directly correlated to ad effectiveness.
Truth: In-feed video ads have a greater impact even with less time on screen.
For both unaided and aided recall, as well as message recall, video ads in Twitter's highly curated environment showed a greater impact than skippable pre-roll ads on publisher sites. And this was despite the ads having been on-screen for less time.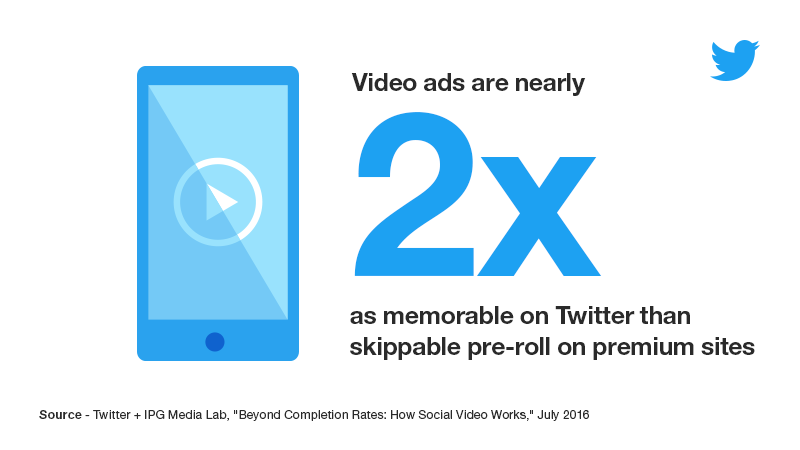 Myth #3: It takes awhile to break through with social video.
Truth: Impact on consumers is swift.
One second is all it takes to make a strong impression, and three seconds is what it takes to see a significant spike in recall. After a video ad was viewed for one second, we saw that close to half the audience recalled the ad. After three seconds, aided recall, unaided recall, and message recall all jumped significantly, by an average of 12 percentage points. Apparently, first impressions really do count.
Myth #4: Recall is poor below the Media Rating Council's (MRC) viewability standard.
Truth: In a feed environment, it's actually quite strong.
The MRC's viewability standard for mobile video ads is 50% in-view for a minimum of two consecutive seconds. But that doesn't account for exposure to Tweet copy, handles, and other brand context surrounding the ad.
This study showed that impact actually occurs below the MRC standard because of this additional social context. "Time in view" appeared to be a more important factor when it came to recall than "Percent in view," indicating that even if some views happen below the MRC standard, your video ad can drive impact.
This latest study — and its illustration of how upfront branding elements such as those commonly used on Twitter can often lead to effective digital video ads at relatively short exposure times — represents an important finding that can help advertisers today in creating more effective ad executions for mobile in-feed environments.
Myth #5: Creative doesn't need to be adapted for a social setting.
Truth: Getting to the point yields better results in a feed environment.
When it comes to driving brand impact, it pays to dive right in. The study showed that branded video creative with an early story arc had a greater ability to persuade viewers and drive brand favorability. And because those ads conveyed more information right away, brand messages were seen as more informative, too.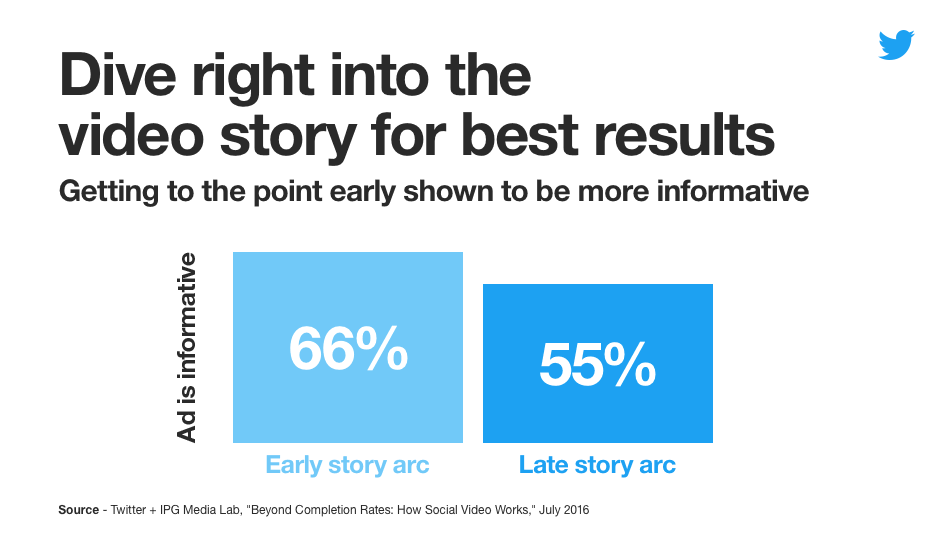 Myth #6: Ads with low viewability levels have low recall.
Truth: Prominent branding boosts recall, even under the MRC view threshold.
Prominent logo placement and frequent or persistent use of recognizable brand images and text had a big impact on people's ability to recall the ad they saw. Creatives that featured prominent branding saw a boost in unaided recall across the board, outperforming ads with less branding at both the one- and three-second view marks.
Given the undeniable rise of in-feed video consumption, brands should embrace and leverage this consumption environment. The good news is that feed environments like Twitter actually create uniquely relevant and targeted environments where video and brand messages thrive and break through to consumers more quickly and effectively than traditional premium sites.
That's because ads appear in a stream of content that is completely personalized and curated for each and every person. Twitter's targeting capabilities can also speak to someone's individual passions, furthering that feeling of relevance. And relevance matters — as a result, video ads were perceived more favorably and drove significantly greater impact on brand health metrics.
Marketers should also remember that the first few seconds of any ad is critical. Get to your main point quickly, and include branding early in your story to give your message the best chance for strong recall.
Researchers recruited participants from a representative online panel to take an initial mobile survey with demographic and media consumption questions. Qualifying participants were randomized into a media experience and their behaviors passively tracked. A post survey then measured traditional brand metrics and captured qualitative feedback.
Participants randomly received one of two media experiences. One group logged into their own Twitter accounts and saw real-time content in the feed, along with the test ad. The other group selected the content they wanted to watch on a premium publisher site, and were served the same ads during an ad break.
A total of 47 distinct test conditions were measured, including ad type, viewability, the presence of subtitles, level of branding, story arc, and industry verticals. Test ads from a broad range of brands were included.
*MAGNA Spring 2016 US Forecast

Editor's note: As of April 2017, we've updated our product names and video campaign objectives on ads.twitter.com:
Product names:
Promoted Video stays Promoted Video
Premium Pre-roll becomes In-Stream Video Ads
Amplify Packages becomes In-Stream Video Sponsorships
Campaign objectives:
Promoted Video becomes Promoted Video Views
Pre-roll becomes In-Stream Video Ad Views (Pre-roll)
Mid-roll becomes In-Stream Video Ad Views (Mid-roll)