Case Study
MediaMarkt drives impressive Black Friday results with Twitter

Black Friday is one of the biggest trading days of the year for electronics retailers. MediaMarkt (@mediamarkt_de) saw an opportunity to extend its marketing activity throughout the entire month of November, and partnered with Twitter to connect with shoppers and own the Black Friday conversation in 2021.

The campaign kicked off in early November, with the initial phase focused on raising awareness of @mediamarkt_de's Black November sales and driving engagement with customers. Using a combination of Video Ads, Image Ads and Carousel Ads, @mediamarkt_de set out its stall by showcasing deals on a range of products. 
Given the wide variety of products sold by the company, campaign targeting was quite broad, leveraging keywords and interests related to tech and electronics to reach the most receptive audiences on Twitter.
With the messaging firmly in consumers minds and Black Friday fast approaching, the campaign moved into phase two with just a week to go until the big day. Using the same high-impact visual formats, @mediamarkt_de increased activity levels to ensure that the campaign messaging was evident across the platform, encouraging customers to shop early to take advantage of the extended sales window.
Having seen strong results during the first two phases, @mediamarkt_de took the campaign to the next level for Black Friday itself. By elevating its Carousel Ads with a Twitter Takeover, @mediamarkt_de was able to own the top spot on the Twitter Timeline and Explore Tabs across Germany, placing its call-to-action front-and-centre for one of the busiest retail days of the year.
@mediamarkt_de kicked off their Black Friday campaign several weeks before the day itself, allowing itself time to build awareness using Twitter's strong visual formats.
@mediamarkt_de maintained a consistent presence as Black Friday approached, using distinctive high-impact creative to stay top of mind and remind consumers of the available deals.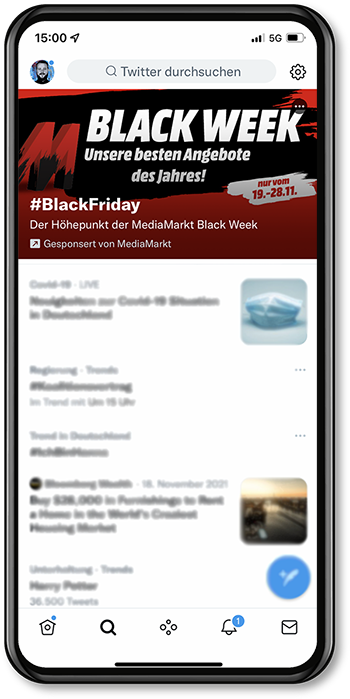 Using a Twitter Takeover, @mediamarkt_de was able to gain maximum awareness for its Carousel Ads for 24 hours, putting it head and shoulders above the crowd on Black Friday.
The @mediamarkt_de Black Friday campaign was a huge success. Overall, there were 18.2 million impressions of the campaign, while the Twitter Takeover drove over 8 million impressions on Black Friday alone. The Takeover also drove an uplift in sales on the big day, generating an impressive ROI of 2.4x.
The campaign's link clickthrough rate was a huge 250% above benchmark, with the cost per click falling 40% below the benchmark. Perhaps the most impressive aspect of the campaign was the impact on the bottom line. The overall campaign generated a huge 2.9x return on investment for @mediamarkt_de - an impressive gain for a great campaign.