Marktstudien
Es ist Zeit für deinen nächsten Launch auf Twitter
Eine Markteinführung auf Twitter kann das Interesse und die Ergebnisse für deine Marke steigern
Die Art und Weise, wie du einen Launch umsetzt, ist für deine Marke entscheidend. Bist du nach Abschluss der Planungs- und Testphase bereit, mit der neuen Kampagne so richtig loszulegen? Wenn es darum geht, eine erfolgreiche Kampagne zu starten, ist Timing alles.
Und jetzt ist genau die richtige Zeit für Marken, um auf Twitter durchzustarten. Aktuell verschieben die Menschen ihre Prioritäten und passen ihre täglichen Routinen an. Damit sind sie auch offener für Neues als je zuvor. Wenn du bereit bist, etwas Neues mitzuteilen, kann die Markteinführung auf Twitter dazu beitragen, das Interesse der Menschen noch stärker zu wecken und bessere Ergebnisse zu erzielen. Hier erfährst du, was der Grund dafür ist.

Jetzt ist der passende Zeitpunkt
Ankündigungen von Marken stellen eine perfekte Gelegenheit dar, auf Twitter zum Gesprächsthema zu werden, zumal gerade jetzt jeder etwas gebrauchen kann, auf das er sich freut.
Ob du es glaubst oder nicht, ein Launch in einer Zeit langsamen Wachstums kann eine Menge Vorteile haben. Das Timing kann nicht nur die Sichtbarkeit von Kampagnen erhöhen,1 laut einer Nielsen-Studie aus dem Jahr 2009 verzeichneten Marken, die in der Abschwungphase auf den Markt gebracht (oder relauncht) wurden, sogar ein um 15-25 % höheres Wachstum des Share of Voice als das allgemeine durchschnittliche Wachstum.2
Wir sind bereit für etwas Neues
In diesem Jahr gehen die Menschen viele Dinge anders an. Von älteren Verbrauchern, die zum ersten Mal online einkaufen, bis hin zu Millennials, die Tiefkühlkost ausprobieren, verändert sich das Kaufverhalten grundlegend - und ein überzeugendes Erlebnis mit einer Marke kann dazu beitragen, diese neuen Gewohnheiten zu festigen.
Veränderte Realitäten bedeuten, dass die Menschen vielleicht sogar noch offener dafür sind, etwas Neues zu entdecken - und das gilt ganz besonders für die Menschen auf Twitter. Egal ob es sich um eine neue Initiative oder einen völlig neuen Look handelt, die Menschen hoffen, von Marken spannende Dinge  zu sehen. Tatsächlich wollen 83 % der auf Twitter befragten Personen neue Markteinführungen von Marken sehen.3
Die Menschen werden aufmerksam (und aktiv)
Auf Twitter sprechen die Menschen Klartext - und es wird auch gehandelt. Sie sind nicht nur begeistert von neuen Produkten von Marken, sondern wollen diese auch ausprobieren. Laut unserer Studie sind Twitter Nutzer doppelt so lange mit dem Betrachten von Launch-Anzeigen beschäftigt und setzen diese mit 3,3-facher Wahrscheinlichkeit in die Tat um als auf jeder anderen Plattform.4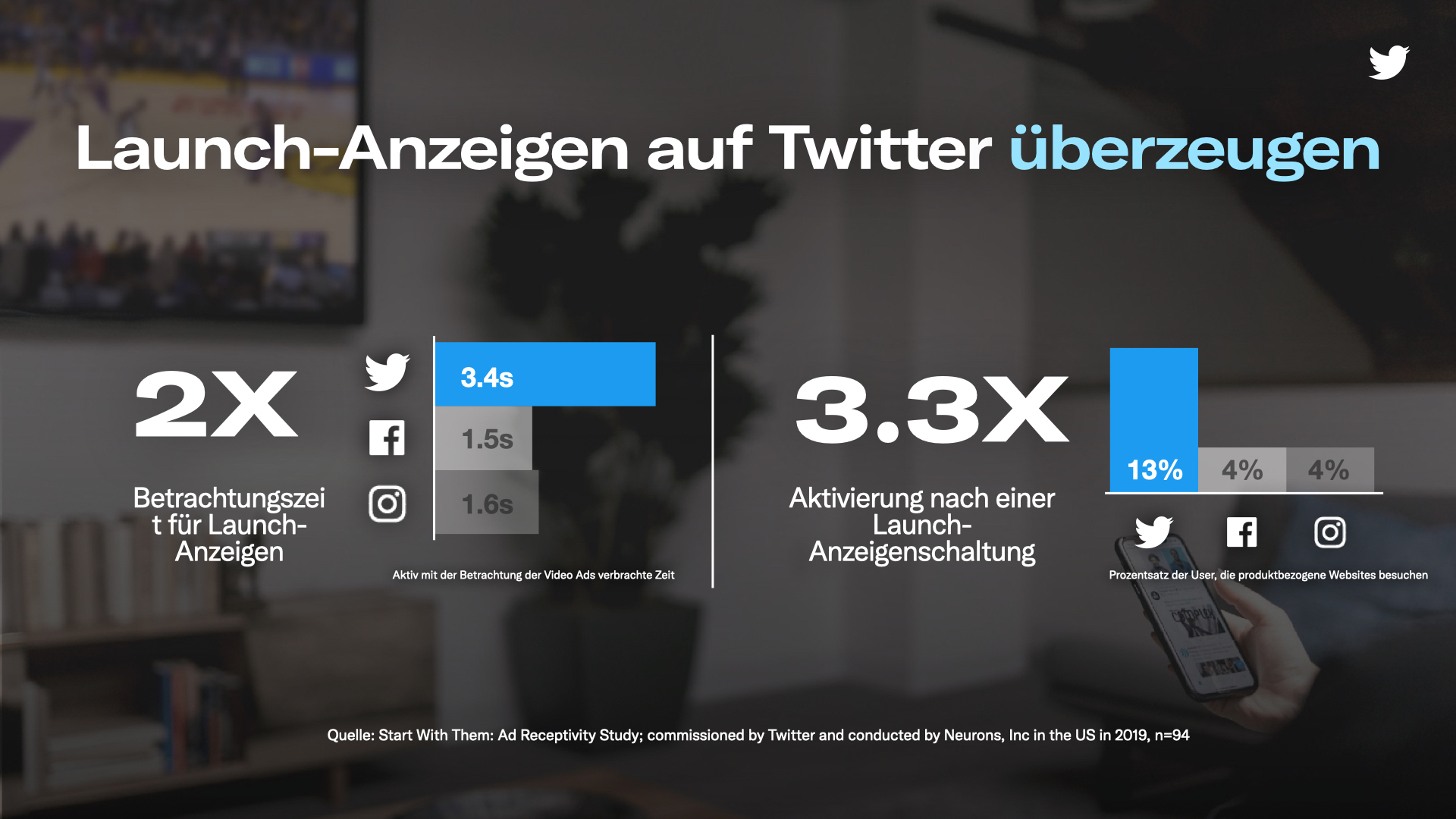 AEin Launch auf Twitter hat nicht nur positive Auswirkungen auf deine Zielgruppe, sondern auch auf deinen Mediamix. Unseren Untersuchungen zufolge verbessert Twitter die Leistung der anderen Kanäle, mit denen es kombiniert wurde, und steigert so die gesamte Marketing Performance.5 Wenn das nicht überzeugend ist...
Die Menschen freuen sich immer auf etwas Neues. Nutzt du die Chance nicht, ihnen mitzuteilen, was als Nächstes kommt, dann könnte jemand anderes ihre Aufmerksamkeit auf sich ziehen - und Geld verdienen. Wenn du also startklar bist, dann lege jetzt auf Twitter los.

Footnotes:
1. Nielsen. Global. Budgeting for the upturn — Does share of voice matter.
2. Toluna, commissioned by Twitter, Global Vertical Deep Dive Research, August 2020, n= 43,200)
3. Post Exposure Study, commissioned by Twitter and conducted by Neurons, Inc. in the US in 2019
4. Twitter Marketing Insights & Analytics, 2020. Data2Decisions, commissioned by Twitter, Twitter as a Catalyst Study, 2020.